Flexible work can mean different things to different companies. For some, it means a flexible schedule, for others, it's a flexible location. But overall, a flexible work arrangement is any time of work that isn't Monday to Friday, 9-5, in an office. As a fallout from the Pandemic, lots of startups now offer flexible working benefits for their staff – but how do businesses benefit from it? Employees now put this perk at the top of their career benefits ladder, with a Mercer's 2018 Global Talent Trends study reporting that 51% of employees want their company to offer more flexible options.
And according to research from the Institute of Leadership Management, 94% of all organizations in the UK now offer their staff some form of flexible working. If you're yet to implement flexible work arrangements in your startup, the following are six invaluable benefits flexible work arrangements can bring to your HealthTech.
6 Flexible Work Benefits 
Attract Excellent Employees From A Wider Talent Pool 
In today's digitised world, we have unlimited access to productivity and management tools. But attracting and retaining a skilled and diverse workforce is one of the most critical aspects of running a successful startup. Employees looking for their new role are more likely to prioritise companies that offer flexible working than those who don't. Nicole McCabe, Director of Global Diversity and Inclusion at SAP believes that flexible working is key to a startup reaching its full potential:
 "You are enabled to really attract the best talent to your organization. If a specific office location doesn't limit you, you can look anywhere in the country or anywhere on the globe."
Greater Diversity
The importance of Diversity in HealthTech should not be underestimated, with a 2019 Mckinsey Company study finding that companies with diverse employees had greater performing teams than less diverse organizations. But if you're limiting your candidate pool to a single location, you'll attract a narrower group of candidates. Offering flexibility allows you to cast a wide and diverse net, increasing your chances of ending up with the best candidates possible. Not only will flexible working help improve diversity, it will improve your startups bottom line.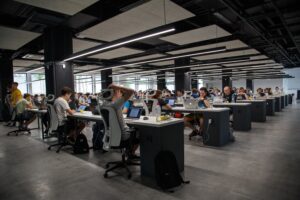 Improved Employee Retention 
The modern reality is that employees are constantly juggling different priorities; so by employing flexible work arrangements, you increase the likeliness of retaining skilled staff. Offering the option strengthens employee loyalty to a company, which encourages long-term commitment, enhances company culture, and reduces costs associated with recruiting and training new employees.
A Happy And Fulfilled Workforce 
A recent Labour Force Survey from Health and Safety Executive showed that over a 12-month period, 15,000,000 days were lost to mental health problems such as depression, anxiety or stress, all of which were caused (or worsened) by work. Ultimately, the offer of flexible working hours, telecommuting, or remote working is crucial to employee wellbeing and in turn, company success.
Employees who are engaging with their roles ultimately translates to:
Fewer missed days of work
Less turnover
Career longevity

Greater Work / Life Blend 
The Office Of National Statistics revealed that over 70% of individuals currently in the workforce have children. Another 1 in 7 employees are responsible for caring for a family member. A flexible work schedule allows your employees to balance commitments in their personal lives with the demands of their work life, giving them a healthy blend of all the elements of their lives on a daily basis, rather than only having time for non-work commitments in out of work hours and days off.
Cost Saving
Flexible work arrangements reduce the costs to your startup associated with sick leave, employee absenteeism and tardiness. As flexible working also improves employee satisfaction and retention, the need to hire new employees and the costs associated with this are also hugely diminished. With a large office space also not being necessary, flexible working is inexpensive to implement and offers fast, measurable returns on investment in the shape of employee satisfaction and output.
If you're looking to implement a flexible-work policy, or would live advice on how to be more inclusive through flexible work arrangements, get in touch. Our expert consultants can provide you with advice and assistance to help you execute this process.