By the time Coronavirus is behind us, it's estimated that our healthcare system would have undergone over a decade of innovation in just under a year. In the face of necessity, HealthTech and digital health are proving their importance and making their mark on the future of healthcare. As we edge out of this innovation and adoption, there's no sign of a return to the old-fashioned practices of the previous decade. Instead, Healthcare solutions are set to remain, with virtual consult technology, patient self-monitoring, and digital contact tracing being three of the solutions paving the way.
3 Healthcare Solutions Set To Remain 
Virtual Consult Technology:
In the UK, 99% of GP practices now offer video consultations, which is up from under 10% pre-Covid. Not only is the virtual visit becoming a familiar part of the delivery of healthcare, it's also radically boosting quality and cost-effectiveness. Telecare is more than just a 'Covid-trend' – it's a part of a shift towards making healthcare more accessible and convenient for everyone.
Of course, video-only healthcare has innate limitations, but HealthTech is confidently stepping in to bridge the gap. Take innovative telehealth solutions Nye Health and Heydoc for example, who took action and promptly created secure video consultation technology. Telehealth enterprises also saw a surge in funding, with TytoCare, for instance, recently receiving $50 million to invest in its range of tele-connected devices, of which includes an infrared thermometer and stethoscope.
Another of the growing number of companies on the telehealth scene is digital health company Doctor Care Anywhere (DCA). Offering 24-hour access to GP's via video or phone call, DCA recently partnered with online mental health service providers Kooth and Koa Health in response to the increasing need for virtual services.
Self-Monitoring:
Self-monitoring apps and tools came into great demand following the hit of the pandemic. The enabling of individuals to track meaningful data about themselves encouraged healthcare providers to use these tools to scale treatment in a more cost-efficient and timely way.
Wellframe, an American digital health management solution, offers health plans through its mobile app. Ranked at #120 on Deloitte's Technology Fast 500 in November 2020, the app shares its users data in real time with their healthcare organization's health team dashboard.
In a very recent mHealth development, Fitbit users can now track their blood glucose within the Fitbit app; an advancement which comes as wearables are set to continue building on the HealthTech revolution.
Some other self-monitoring platforms on the rise in health management are Liva UK app and Current Health, with Liva UK helping its users manage conditions such as diabetes, and Current Health combining ICU-accurate wearable monitoring to give early health warning alerts. Healthcare solutions like these are massively reducing the pressure on exhausted health services. With the large treatment backlogs the entire world will be facing post-pandemic, their value and usage is far from decreasing.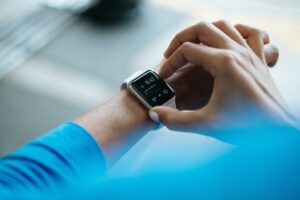 Digital Contact Tracing:
Digital contact tracing surged in response to the pandemic. The epidemiological interventions digital contact tracing offers are unparalleled, and it's set to become an unwavering healthtech solution post-Coronavirus.
The biggest digital contact system to emerge from the pandemic in the UK was the mobile app NHS Test and Trace. The app logs the distance between mobile phones using Bluetooth Low Energy to trace the spread of the virus, and as of 28th September 2020, it had been downloaded 12.4 million times, making it the fastest downloaded app in British history.
The Covid Symptom Study is another contact tracing app which arrived quickly to the scene – a tracing system launched by health science company ZOE. By combining your reports with software algorithms, the app can predict who has the virus and track infection rates across the UK, with other countries also being added to its capabilities.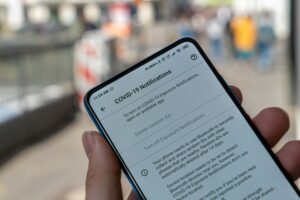 Deep dive 4 months into the pandemic and numerous other HealthTech start-ups flocked to the contact tracing scene. The tech solution FoKi Health, for example, quickly recognized the increased demand for medical equipment, and decided to develop on its excising Bluetooth beacon to track and trace life-saving equipment outside hospital walls. This is a tech a solution which has served to hugely ease the strain of Coronavirus on the delivery of healthcare, and its one that shows no sign of slowing.
The unprecedented economic and humanitarian needs unearthed by Coronavirus served as a massive driver in the development and adoption of the HealthTech industry at scale and speed. As we look to the future, there's no doubt that technologies role in healthcare is only heading in one direction – and this is something to truly champion.
At Storm3 we are dedicated to working with the most innovative healthtech companies worldwide. If you are looking to build and grow your team, we have technically skilled candidates ready for you to connect with. Get in touch to brief our team of experts with your hiring needs, or read more about our mission here.