Over the past year, HealthTechs across the globe have grasped how to empower their remote workforce; but juggling a hybrid workforce comes with a whole new set of challenges. For an inspired and empowered hybrid workforce, companies need to be intentional in building new ways of working that 'work' for everyone.
You need to focus on the ties that bind your organization together and pay attention to the affect of your choices on your HealthTechs culture. To help you fashion a hybrid virtual model that best fits your HealthTech, we've compiled 6 tips and ideas which will give your workforce stability and social cohesion, empowering your employees to be the best they can be.
What Is A Hybrid Workforce?
A hybrid workforce comprises employees who work from a central office or location and those who work remotely. This enables employees to work flexibly, in a setting most comfortable for them, increasing productivity and employee experience. It also allows companies to hire from a wider pool of talent –  with the location of the employee no longer being a barrier – and reduces the costs that come with having a large office space.

6 Tips For Inspiring And Empowering Your Hybrid Workforce
Implement Intelligent Automation
Intelligent automation helps companies streamline their processes, improving the operational efficiency of a hybrid workforce. David Marshall, regional lead for EMEA at Intradiem, believes that technology – specifically intelligent automation – will assist in successfully empowering a hybrid workforce:
"Intelligent automation helps maintain the connection, camaraderie and shared culture staff members need to stay engaged when working remotely [or in a hybrid manner]. The technology can also remove the burden of people having to complete manual, repetitive tasks, empowering workforces to dedicate more time to customer service, and to their development through training and coaching sessions, so they can carry out their job more effectively while working remotely."
By doing this, you can maintain the vital connection between employees and managers, even when they aren't sharing an office.
Take The Time To Celebrate
Whether the work is achieved at someone's kitchen table, or in offices across multiple cities, employee accomplishments should be amplified so that the individual can receive recognition for their hard work, and to remind the company of the impact that every contribution has towards the overall mission. Host a virtual lunch and have food delivered to employees, or get together on a virtual meeting to toast to an individual or team success.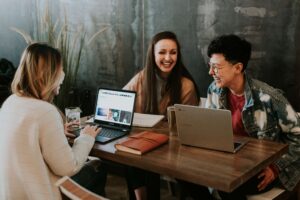 Have Informal Communications
Intentionally create channels where employees can connect and catch up with one another both personally and professionally. You can also build overall company communication through an employee communications editorial calendar that features both business and individual announcements, such as birthdays, wedding and pregnancy news, team get-togethers, client case studies, project milestones and so on. These stories are the epicentre of your company culture, so be sure to provide the time and means to share them.
Schedule Regular Check-Ins
Whether its daily, weekly, or monthly, have regularly scheduled virtual meetings. This level of communication and engagement helps remote employees feel included, as well as giving them the opportunity to flag any problems they are having, both in and out of work. Of course, some employees will want or need more regular check-ins than others, so be sure to tailor the frequency and format of your check-ins to the individual.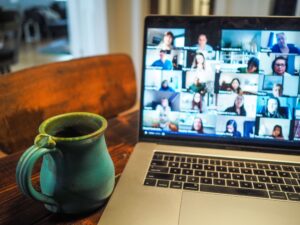 Don't Forget About Learning And Development
Consistently training and upskilling employees is paramount, especially in the HealthTech industry, where skills, trends and data are constantly evolving, and where the pressure to remain innovative is high.
Continued development ultimately helps create a culture in which people are inspired to grow in their role, but you need to ensure everyone is given the same opportunities for upskilling and developing. If you aren't intentional in offering your hybrid workforce equal opportunities for development, there will be inconsistencies in the success of in-office employees versus virtual ones.
Embrace Tools That Support Flexibility And Encourage Accountability
A hybrid work environment should promote employees working closely together with their team, and so the most critical choice of empowering hybrid teams is choosing the right collaboration tools. These tools improve the process and outcome of teamwork, whilst saving time, energy, and money, and it's for this reason that over 60% of executives are planning on increasing their budgets for virtual collaboration tools. Tools such as Slack, Zoom, Github and so on can help hybrid HealthTechs communicate, discuss projects, assign task, and share knowledge with fellow team members.
If you are a hybrid HealthTech, get in touch with our expert consultants who can give advice on how to effectively implement and run a hybrid workforce. If you're looking to scale, our consultants can also assist you with your hiring needs. Find out more about the roles we work with here.