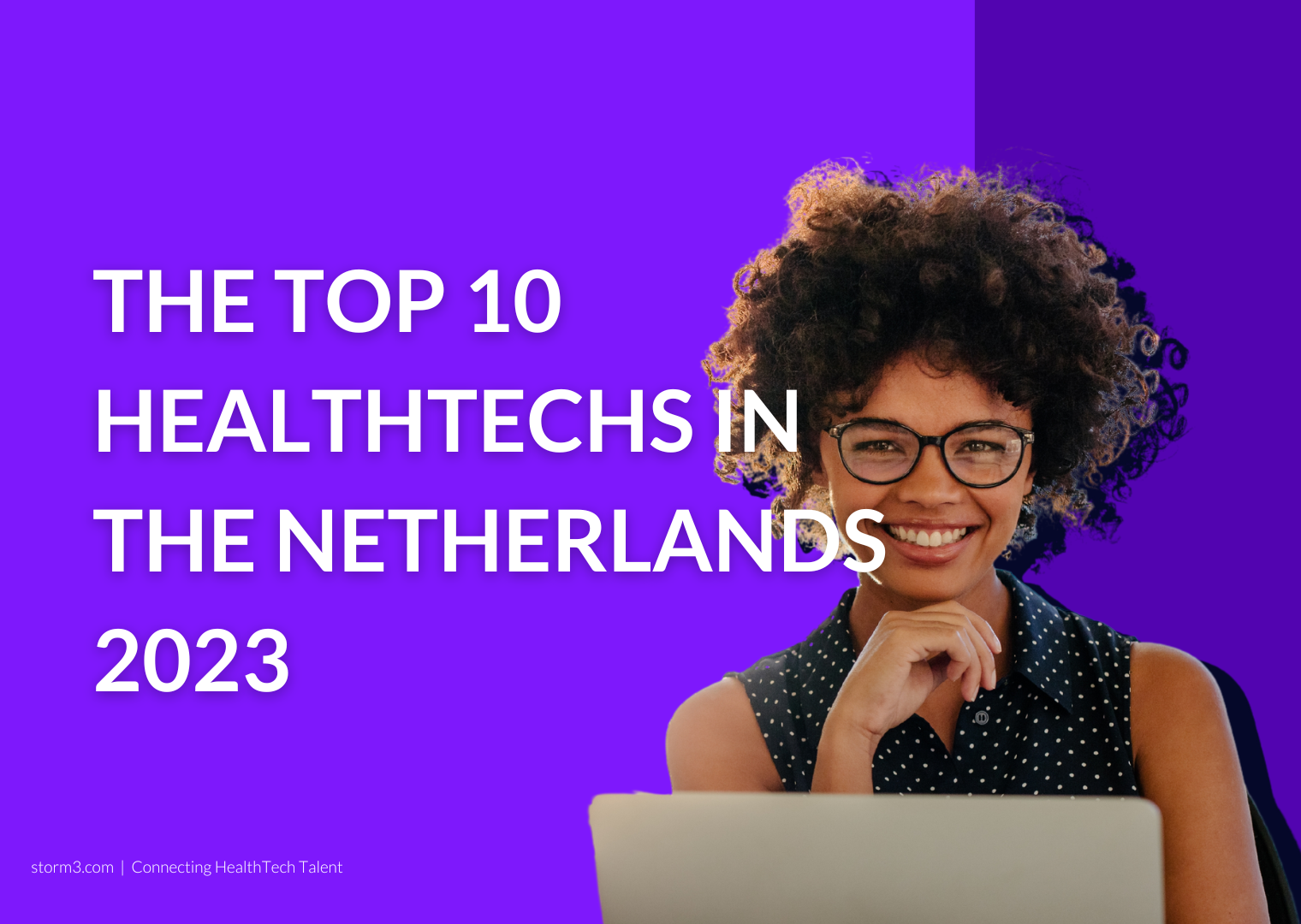 Businesses in the healthcare sector have significantly boosted their development and digitization since 2020 as a result of the pandemic. As a result, HealthTech products have gained enormous popularity.  Consumers started using technology more frequently during lockdown and COVID-19, and human health has taken the top spot in terms of importance. That is just one reason as to why we require technological assistance.
According to the State of European HealthTech 2022 study, the COVID-19 pandemic has greatly fueled growth in Europe's HealthTech sector over the previous two years, with total capital spent increasing from €1.5 billion in 2017 to almost €9.2 billion in 2021.
HealthTech in Europe
European healthtech firms raised €7 billion in total in 2022, a decrease of 35% from 2021's record but still a considerable increase of 45% from levels in 2020. This potential decline in funding in the healthtech sector, could be due to the global venture capital funding reaching its lowest point in two years as a result of investors moving to typically safer seas due to geopolitical unpredictability, a bear market, and rising interest rates amid record-high inflation.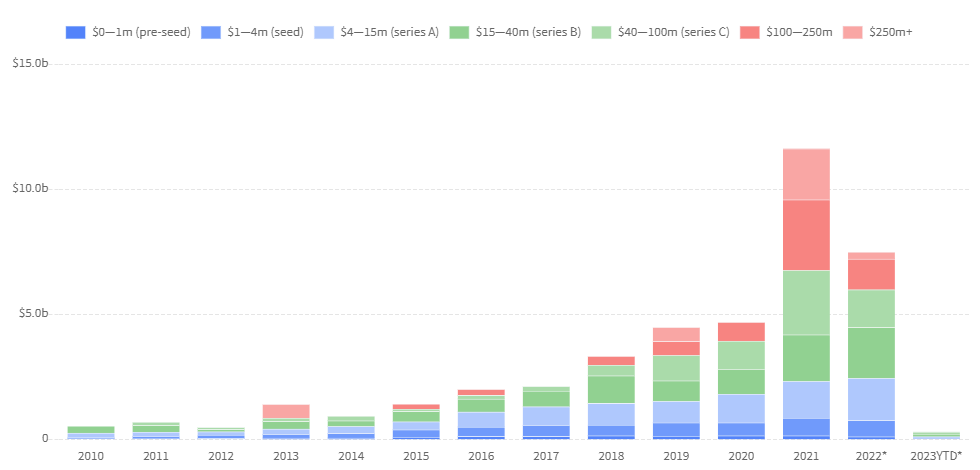 Figure 1. The figure shows the amount of funding the European HealthTech sector has raised from 2010-2023.
HealthTech in the Netherlands
Regardless of this dip in funding, the Netherlands HealthTech sector has been rapidly growing. The Dutch HealthTech sector has a high startup density (about 10.8 startups per million people) compared to other ecosystems, while Germany and France have 3.2 and 6.1 startups per million people, respectively.  Due to the fact that the Netherlands are currently facing: a change in the ageing population, the number of chronically ill individuals, and the high expense of healthcare this has created a sudden growth in HealthTech advances. Therefore, the Dutch healthcare sector needs HealthTech advancements in terms of time and money savings.
With all of the changes constantly happening in the HealthTech industry, we've put together a list of innovative companies that are making a difference in 2023.
Top HealthTechs in the Netherlands 2023
Neogene Therapeutics
Neogene Therapeutics is a global, clinical-stage biotechnology company. The company pioneers the discovery, development and manufacturing of next-generation engineered T cell receptor therapies targeting the spectrum of solid cancer. Neogene Therapeutics aims to widen access to individualized engineered T-cell therapies for a broad spectrum of cancers.
Neogene Therapeutics was acquired by AstraZeneca with the shared goal of bringing cell therapies to patients with solid tumours. To date, Neogene Therapeutics have raised €102 million in series A, bringing them closer to their goal.

UniQure
UniQure NV (UniQure) develops and markets gene therapy products. The business creates virus-based gene therapies utilizing its gene technology platform and provides patients with severe genetic illnesses and other life-threatening diseases with disease-modifying medications.
UniQure is a company of firsts. It is the first company in the western world to be approved for gene therapy. It is also the first commercially licensed gene therapy manufacturing facility. Moreover, UniQure is also the first AAV-delivered gene silencing therapy for Huntington's disease to enter clinical development, as well as the first AAV vector clinically demonstrated to be effective in patients with pre-existing neutralizing antibodies.
In January of 2023, UniQure received a global licensing deal with Apic for APB-102, a gene therapy candidate for a rare form of the disease called superoxide dismutase 1 amyotrophic lateral sclerosis. In 2015, the company raised €82,9 million in Post-IPO Equity.

Castor
Castor is a cloud-based clinical data platform with the goal of accelerating and putting the patient first in every clinical study. It enables academics everywhere to plan studies and instantly incorporate data from any source. Patients who are interested can sign up for trials and exchange their data online or using a smartphone app.
Castor created technology to assist in addressing problems in the post-marketing clinical trial (PMCT) space by integrating real-world data sources including patient-reported outcomes and wearables. This will help to increase patient access and retention as well as improve data quality and compliance. The company's latest funding round was a series B round, where they raised €41.9 million. 

CarePay
In order to link providers, patients, and payers, CarePay has created a claims management platform. Medical service financial management and distribution are optimized via web- or mobile-based platforms. In order to help healthcare providers and payers manage their revenue streams, the platform provides real-time data on patient billing and claims processing.
CarePay's latest funding was from a Grant, worth €279,000, making it a total of €42 million.

 ScreenPoint
ScreenPoint is an AI-based medical image analysis systems supplier. Transpara, the company's flagship product, uses automated analysis of breast tomosynthesis and digital mammography data to find breast cancer early. Transpara provides decision help for pre-screening exams, CAD, and soft tissue lesions.
Of all the deep learning breast AI solutions, Transpara has appeared in the most prestigious peer-reviewed articles on a global scale. To date, ScreenPoint has received €26 million in funding in series C.

myTomorrows
MyTomorrows provides a platform for patients and clinicians to have early access to medications. The platform links patients, physicians, and pharmaceutical corporations. Through its platform, it offers details on medical issues, associated clinical trials, and early access initiatives. The platform provides diagnostic tests and enables requests for medications that are in development.
myTomorrow, acquired €10 million in the venture round, which will go towards their growth plans.

Siilo
Siilo is a secure messaging app for medical professionals. For medical professionals, Siilo is a secure communications platform. Users of the app can send and receive quick, secure messages. Its features include the ability to save photographs in an encrypted vault and share them anonymously, as well as the automated deletion of messages after 30 days. It also serves as a platform for crowdsourcing, enabling users to share the most recent news and opinions as well as ask for and receive advice.
Siilo has so far raised €9.5 million in series A, which will help them in their goal of creating better medical communication.

Founda Health
Founda Health is a platform for professional online collaborations in the health sector. The business has created a platform that enables professionals to communicate and work together. The system provides functionality for documenting, integrating data, and other things.
Founda Health raised €13.9 million in a seed round to build infrastructure for the global healthcare sector.

Aidence
For radiologists, Aidence provides a platform for AI-based medical image analysis. The platform examines the images to identify and categorize illnesses using a variety of imaging modalities. It enables computers to understand medical images and generate structured reports in real-time using deep learning technology. The company claims that the software may be integrated with the current workstations and PACS for workflow optimization.
Google Health and Aidence joined together to license Google Health's AI research model for lung nodule malignancy prediction on CT imaging, in order to promote the early and accurate detection of lung cancer and the avoidance of pointless procedures in screening programs. Aidence's last funding was €10 million raised from a Series A.

Virtuagym
Virtuagym is a tool for managing nutrition and exercise plans online. Users can create their own training schedules, track their nutrition, do 3D animated workouts, and participate in group challenges. The app provides client counselling, membership administration, billing, scheduling, and other features for coaches. With the use of templates, an integrated credit system, and a social center for client communication, Virtuagym assists instructors in developing workout regimens.
The fitness technology provider, Virtuagym, secured €3 million in funding during the Venture Round. The additional funding will support its international expansion and expand its all-inclusive software for club administration, coaching, and engagement in the health and fitness sector.

How Storm3 Can Help You
Storm3 is here to help you create the change that is needed in the HealthTech industry. We are specialist recruiters dedicated to working with the top companies in all HealthTech sectors. Whether you are a start-up or planning to scale up, Storm3 is here to help you find the right senior talent for the right specialism. If you are looking to expand your team, contact us.