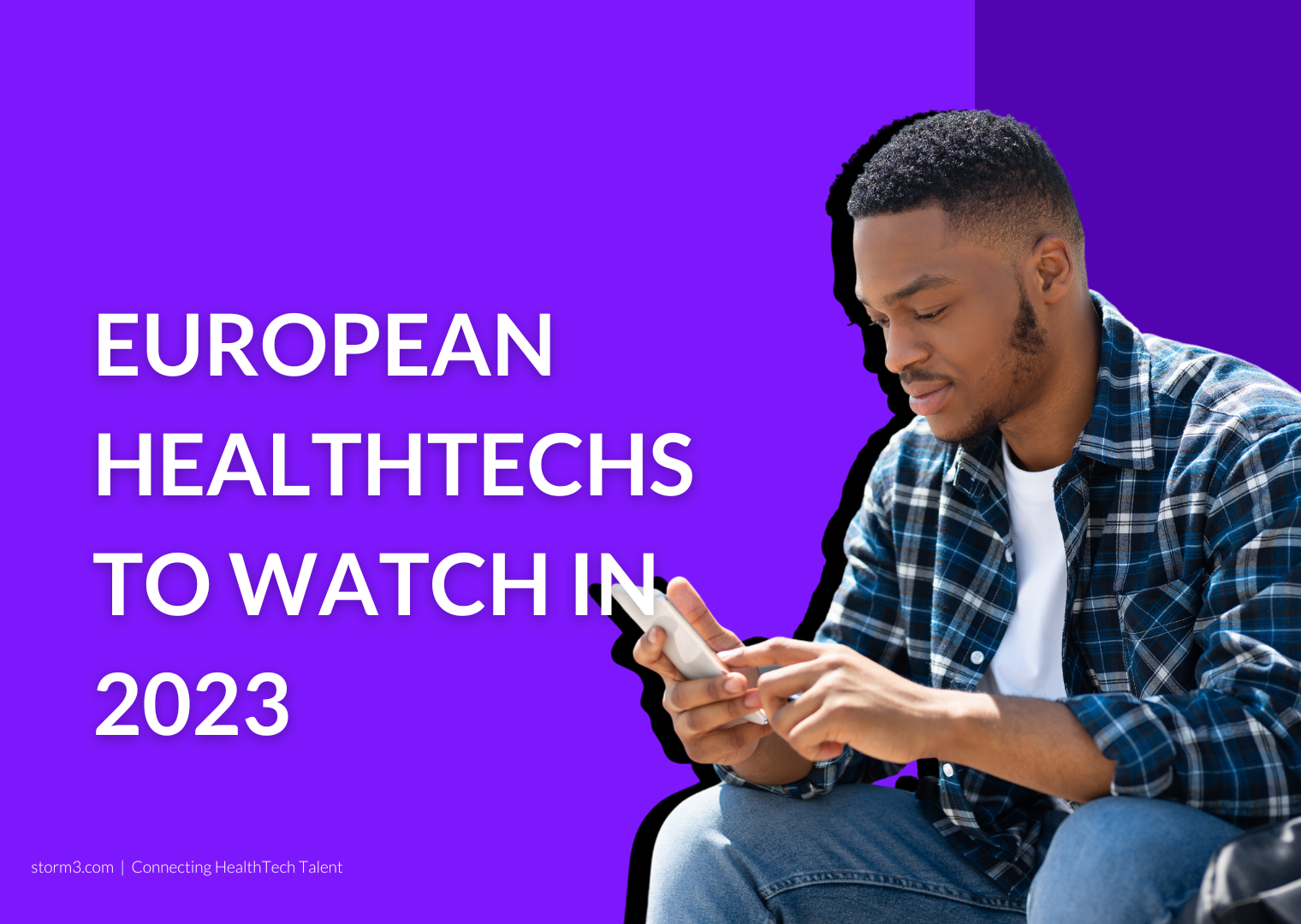 Over the past decade, Europe has evolved into a powerful HealthTech hub. Looking ahead, the market is predicted to reach $149.8 million – a 17.1% expansion between 2021 and 2027 – according to data pulled by Graphical Research.
Be it through mobile apps, wearables, databases or applications, HealthTech solutions are developing quickly. But with this being our present, what does the future look like? And which disruptive companies are leading the charge? Check out below five trailblazing European HealthTechs that are anticipated to set the pace for the sector in 2023!
Five European HealthTechs To Watch
MindMaze
Switzerland | Venture
MindMaze is one of the top European HealthTech startups and is known as the global leader in digital neurotherapeutics. With more than a decade of work at the intersection of neuroscience, bio-sensing, mixed reality, engineering, and artificial intelligence, MindMaze's healthcare division claims to be addressing some of the most challenging issues in neurology, including Alzheimer disease, stroke, and Parkinson's disease, by creating a platform for brain health and recovery, and unique digital therapeutic interventions.
Through a recent partnership with Vibra Healthcare, a leader in post-acute hospital patient care, MindMaze's solutions will be rolled out on a large-scale to improve care across in-patient, post-acute, company sub-acute and home-based environments.
"MindMaze is committed to redefining neuro recovery across the continuum of care through the development of evidence-driven solutions for patients with serious neurological conditions." Tej Tadi, Founder, Chairman & CEO

Onera Health
The Netherlands | Series B
One in five people struggle with sleep, and the odds of being sleep deprived (less than six hours a night for adults) has risen considerably over the past 30 years. Fortunately, Onera Health, an at-home medical-grade sleep diagnostic patch system, is transforming sleep medicine and helping the medical field provide the much-needed answers for millions who suffer with sleep disorders.
"For many years, comprehensive sleep diagnostics was mainly possible in in-patient laboratories that required significant resources, resulting in long waiting times and often poor patient experience. Our innovative solution enables large scale utilization of at-home polysomnography. This will not only increase patient comfort during a sleep study significantly, it will also improve access and shorten the diagnostic journeys of patients suffering from sleep disorders." Ruben de Francisco, CEO

ŌURA
Finland | Venture
ŌURA is the company behind the Oura Ring – a smart ring that uses sensors to deliver real-time personalized health data, insights and daily guidance. Through its infrared technology, the Oura Ring monitors temperature and blood flow, calories burnt, and heart rate. The ring then connects to the mobile app, where all the data is handily visualized and explained.
Recently, the European HealthTech launched Oura For Business. Through this offering, organizations – specifically business corporations, healthcare, higher education, athletics, employee wellness, and the military, will be provided with data about their people, from performance optimization and fatigue, illness detection and burnout.
"By starting with sleep as the foundation of overall health, the passionate team at ŌURA has created an extraordinarily elegant solution to enable anyone to take charge of their health, all in one small, yet highly advanced ring." Tom Hale, CEO

Ada Health
Germany | Series B
The European HealthTech startup Ada Health helps diagnose symptoms and offer treatment advice through its AI-enabled platform. Ada's consumer app has handed more than 26 million assessments since launch and has earned 300,000 five-star ratings globally.
Recently, Ada was certified as a Class IIa medical device under the European Union Medical Device Regulation – a major milestone for the company and a confirmation of Ada Health's position as a leader within the AI-based health and symptom assessment category.
"As a company, our goal is to improve healthcare outcomes for more than 1 billion people around the world. Covid-19 has highlighted the need for greater, faster change within healthcare, and we are seeing a growing demand from health systems, insurers and life sciences organizations for innovative ways to help transform health journeys and drive better outcomes for patients, clinicians and providers." Daniel Nathran, CEO
Dacadoo
Switzerland | Series C
Dacadoo operates a mobile-first digital health engagement platform that helps people maintain a healthier lifestyle through a combination of techniques, including behavioral science, gamification principles and social networking. Its unique offering, the Health Score, is based on over 300 million person-years of scientific data and research.
In 2022, Dacadoo licensed its Risk Engine solution to Daido Life, a Japan-based insurance firm, for the development on KENCO+, a new solution which aims to help executives and employees of SME's in Japan. As well as this, Dacadoo has a global partnership with Swiss Re, with Swiss Re offering the platform to insurers of all sizes.
"We are thrilled to partner with Swiss Re and offer insurers and their members around the world dacadoo's next generation digital health engagement solutions. Swiss Re is a global leader in re/insurance. Together we can combine their experience and knowledge, with our innovation and tech capability. We share a vision of a great life and health for everyone." Peter Ohnemus, CEO

How Storm3 Can Help You
As the leading recruitment arm for European HealthTechs, we are the trusted partners to help supercharge your startup or scale up with the best talent in the space. We have connected many senior executives with trailblazing HealthTech businesses and you could be next! Get in touch to speak with our consultants about your next hire (or hires) today!