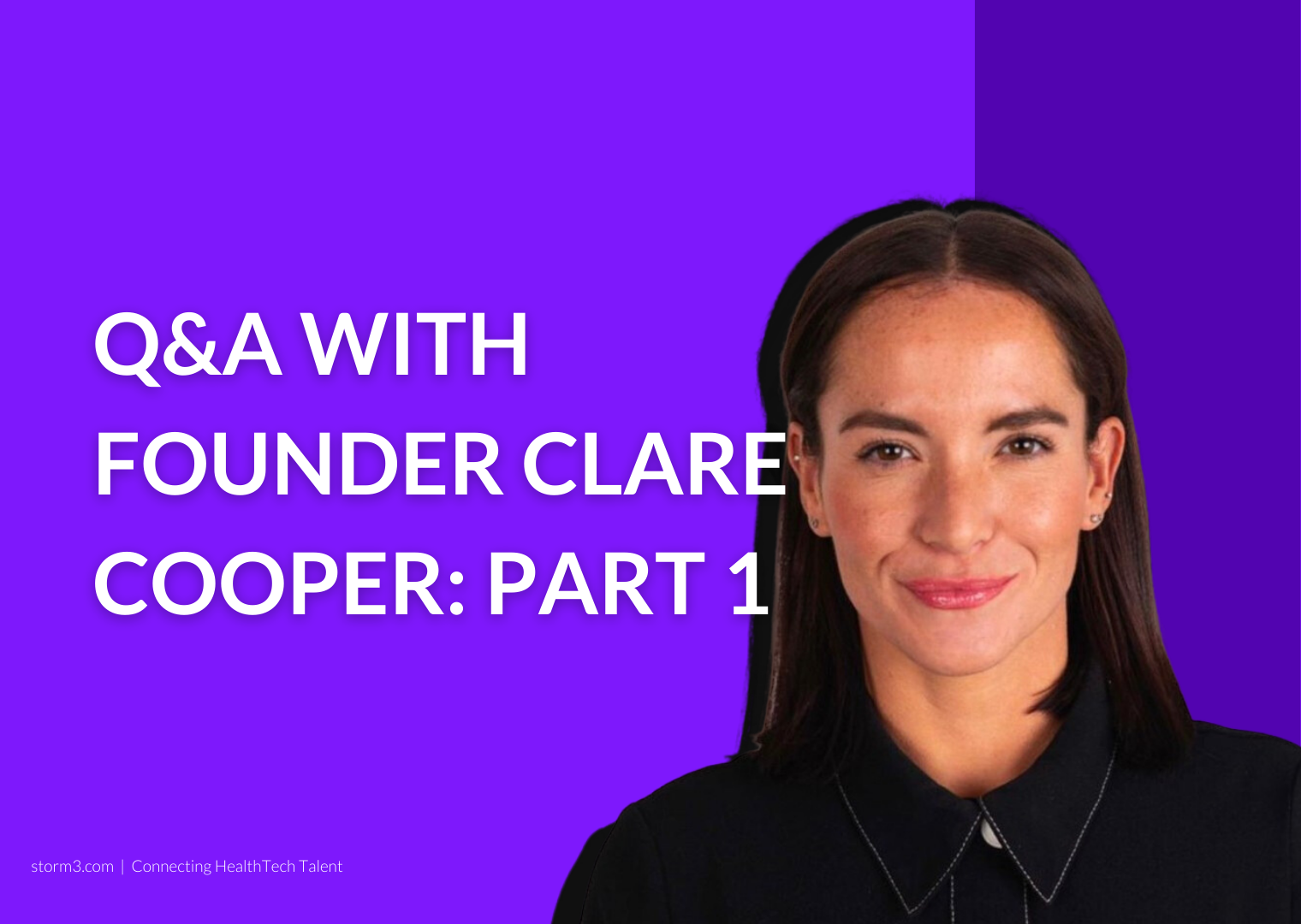 Tell us a little about yourself and your background?
Hi, I'm Clare and I'm the Founder of Storm3. I have been in the tech recruitment industry for nearly 12 years now and spent 11 years with Phaidon International. I joined as a graduate and in my time there built a number of our tech recruitment teams (Selby Jennings and Glocomms) in London, San Francisco, New York and finally Berlin. Tech recruitment was certainly a career I 'fell into'. I studied Mathematics at University and always knew I wanted to do something related to STEM and very quickly fell in love with the concept of recruitment and the impact we can have on the wider tech eco-system. In June 2020 after a successful tenure with Phaidon, I left with no plan but to rest and take time out – the pandemic really prompted me to take a step back and think about what I wanted to achieve in my career, where I want to make an impact and what type of culture I wanted to be a part of; or even better – create. I took a lot of time off to put some ideas together and here I am with Storm3.
What are you most proud of professionally?
The little things – I am still good friends with a number of candidates and clients I have worked with since I started my career and I take huge pride in seeing how far they have progressed in their careers or just the great things that are happening in their daily lives. Just last week I caught up with one of the first candidates I placed in 2009 and he let me know that he had his wife had a little girl last month. Small moments and interactions like this are why I love what I do and why I love this industry.
I guess if I had to think of something more personal; in all honesty I am quite proud of myself for having the confidence to leave a good job, in a great company in the middle of the pandemic with absolutely no plan! It was somewhat ironic how despite having helped hundreds if not thousands of candidates move roles I had never actually been through the process of leaving a job or starting a new one myself – I now have a new found respect for anyone that has done this and hopefully better positioned to help candidates moving forwards.
You had 7 months off… what did you do?
A lot of rest, reading, listening to podcasts, yoga, walking and sunshine! I started at my previous company the day after graduation and the longest break I had taken in the eleven years was 2 weeks, so I must admit the first few months felt a little odd and it took a little while to learn how to switch off. In the final few months I began to put together the plan and vision for Storm3 and spent a lot of time researching the industry – which was really exciting and kept my mind ticking over but again I had to keep stopping myself from getting too caught up and reminding myself to relax! So in the final month I did just that.
What inspired you to launch Storm3?
I had three criteria for deciding on the end market we would focus on a) it would need to be a high growth and disruptive tech industry b) an area that I am personally passionate about and that other people could get excited about too and c) an industry that can make a positive difference to the world.
Amidst the backdrop of the pandemic and my own renewed focus on health & fitness during my time off, HealthTech was the obvious choice. The more I mapped out the industry and the types of organizations that fell in it, the more I started to realize how many different areas had such personal meaning or significance to either myself, my family, my friends, and wider circle. Within a day of deciding on HealthTech, I already felt that Storm3 had such a strong purpose and from there the vision started coming to life.
Why purple?
I wanted it to be bold and bright, just like the mission! We played around with a black & white color block logo to represent our diversity objective, but it was too difficult to make work with the Group theme. Diversity is still at the core of our mission and Purple makes us stand out. I love it!
Are there any areas of HealthTech that excite you the most?
Definitely! Anything related to Fitness and Physical Health. I read a line recently on TechCrunch which summed it up perfectly – 'in 2020 not only did home become a workplace, it also became a gym'. There are so many great wearables and smart devices out there and investment into this sector is soaring – over 2 billion in the US in 2020 alone.
Mental Health technology is another area that I am passionate about – especially in the wake of the pandemic where it is apparent there has been a huge impact on the mental health of many and we are yet to see the long term impact of this. Whether it be online therapy apps with professionals or even bots, apps to help with anxiety, sleeping or addiction, virtual reality for social anxiety, research into new drugs and therapies to help with depression or PTSD, robotic companions to help the lonely and vulnerable – there are so many great developments within the mental sector and I can't wait for Storm3 to partner with companies in this space – not least play our part in normalizing and destigmatizing conversations around mental health.
Lastly FemTech is a hugely exciting area that is finally starting to get the airtime it deserves. Essentially this is technology (devices, products and diagnostics) focused on females; covering areas like contraceptive health, fertility, pregnancy, feminine hygiene products and menopause. I am a female in my mid 30s and these are certainly topics of constant conversation between myself and my friends but for some reason, there still seems to be a taboo talking about the industry as a whole and a disproportionate investment going in to the FemTech – when 50% of the population is female and we spend way more than men when it comes to health! There are lots of dynamics to this industry I find fascinating – a great one being that there are so many female founders in this space.
On the website you state a goal, you aim for 50% of placements to be women. How are you going to achieve that?
From helping clients build and retain diverse teams to coaching candidates from underrepresented backgrounds through the interview and onboarding processes; we are hugely passionate about playing our part as recruiters to find and foster diverse talent. Of course, we want to understand each clients individual DE&I initiatives and help them build a hiring strategy around that and every company will be different. With that in mind I felt it important for us to have wider goals to hold ourselves accountable to also.
For years nearly every client I have worked with has highlighted hiring female technology talent as one of their biggest challenges so in our first year I wanted us to put a target to that – for 50% of our placements at Storm3 to be female. The onus being on placements, not on the number of females in each shortlist or female candidates in our network which is often the rhetoric used by other recruiters. Unless we are actually placing metrics on the candidates into new roles I personally don't believe we are truly making a difference. My philosophy has always been that if we can't measure it, we can't improve it. After year one I would like us to look at targets around other underrepresented groups but I thought this would be a great place to start.
How are we go to do it? We have a bunch of great ideas and relationships with networks and non-profit groups to help us here– this is a whole topic of it's own and we will be delving into this in more detail on the website and intel section next month so keep an eye out.
What types of content and intel can we expect to see from Storm3?
We want to make our content relevant, interesting and useful to the people that matter – our clients and candidates in the HealthTech industry. We want to avoid the generic recruitment content that traditional recruiters produce. We have lots of great ideas from industry news, spotlights on diverse companies and founders, Q&As and 'days in the life' with founders, candidates and investors etc. As recruiters we are the eyes and the ears into the HealthTech industry and talk to so many people across the industry every day – our content will reflect this. We are open to any ideas or suggestions so please reach out and let us know what content you want to read/see.
To get in touch with the team you can submit your enquiries here, or email info@storm3.com.