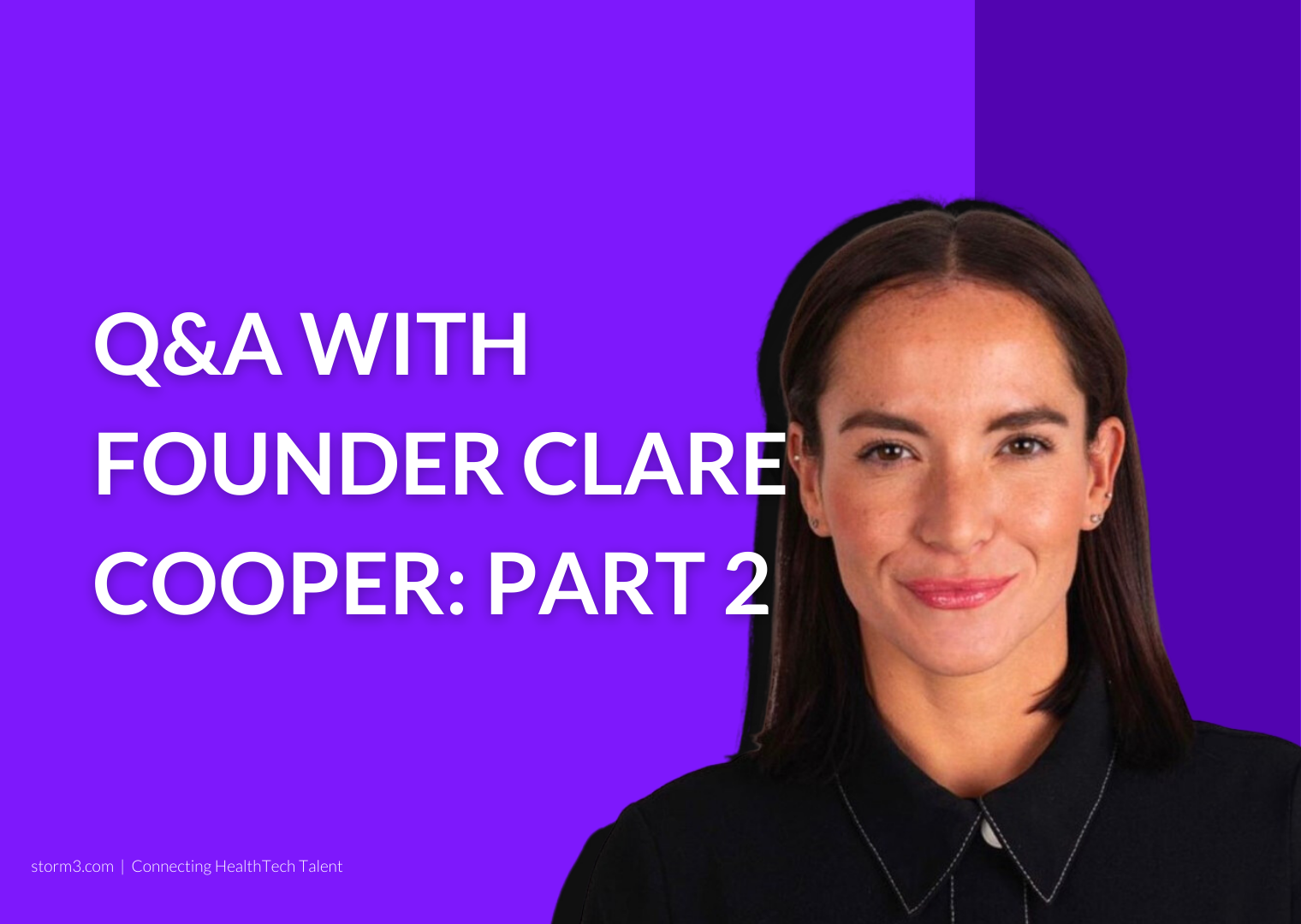 What was the hardest part about setting up Storm3? Or the easiest?
The hardest part was having so much time off before launching and having very little to do in my spare time given the pandemic. I had the plan for Storm3 in place by late November so it's been difficult to not over-plan, over-think, over-strategize and over-complicate what is very straight forward business model. I had to keep reminding myself that we can change and pivot along the way and that mistakes will only be experiences to learn from. In the final month before launch I limited myself to an hour a day max online and turned notifications off my phone.
The easiest part? Storm3 is the second recruitment brand to come out of the Levin Group after Storm2 (FinTech) so we're able to benefit from the infrastructure and experience already in place. Founder, James Brown, was my first boss 11 years back and he has so much great experience and whilst he gave me full autonomy, it was great having him to bounce ideas off along the way. The Group has already raised significant Series-A funding and that has given us access to amazing resources and technology to scale and grow Storm3 quickly.
Are there any health technologies or apps you use yourself or can recommend?
I bought a FitBit Charge4 last summer and haven't taken it off since. I like this model as you can track so many metrics around fitness activity, heart-rate and sleep. I have used a couple of different apps in the past to track my sleep (Sleep Cycle being one) but after buying my FitBit it made sense to have as much as I can in one app. I also use the Pelaton app (not the bike, just the streaming service) which is great for lots of different types of workouts and Calm is great for meditation. It's not necessarily a health app but I have a food allergy so I am never anywhere without at least one epinephrine injection – the brand I use is an alternative to the EpiPen and is called an Auvi-Q and it's cool in that it speaks to you and gives you instructions on how to use it.
What is the culture of Storm3?
Right now we are only two employees – myself and Elle who is tasked with finding Storm3 20 outstanding recruiters to drive our mission in the next six months and is already doing a great job with that. Our values are based around honesty, performance and responsibility and I want us to practice what we preach in terms of diversity and having a culture that not only encourages diversity and more importantly inclusivity. On top of this, ultimately we are a recruitment firm and our employees are compensated with commission based on performance but it's really important to me that we create a culture that also has a focus on health and fitness, especially being a HealthTech rec firm! Our incentives at Storm3 are related to HealthTech – from vouchers for home gym equipment, subscriptions to online apps or vouchers for healthy meal delivery kits. You can't have culture until you have the people so I can't wait for us to get our first hires on board to help me build this. Oh and of course, as with any team I have led before – I hope it will be fun too!
What's been the impact of Covid-19 on the HealthTech jobs market?
The impact has been huge and while most headlines that we see on the daily news are heavily related to Covid-19 research, drug developments and vaccinations – where there has been a huge increase in roles is in the more disruptive areas of HealthTech. Health and Fitness, Telemedicine and Remote Patient Monitoring and Mental Health have skyrocketed and there are businesses that have grown as a side affect of the pandemic.
Are companies actively hiring?
Yes! Companies are hiring, investors are investing and candidates are still in high demand. The majority of HealthTech companies are hiring more than ever before and there's an increase in number of candidates from other sectors (FinTech, Banking, Ecommerce etc) who are interested in using their transferable skills to move into the sector, perhaps with a renewed sense of purpose or interest in HealthTech following the pandemic. A lot of highly technical skillsets in particular Data & Analytics and Engineering are extremely transferable.
What do you see as the growth areas or trends for 2021?
Asides from the areas I've already mentioned following the impact of the pandemic, I think 2021 could see some interesting growth in areas like immunity passports and technology around at-home lab tests. Moreover, a lot of the 'Big Tech' firms are pivoting or investing into HealthTech (Google just acquired FitBit and Amazon Alexa is already working with the NHS) so it will be interesting to watch, especially when it comes to conversations around data and privacy.
What's the biggest challenge for HealthTechs currently?
From a recruitment perspective – for the start ups and scale ups I think a lot of their challenges are similar to that of other industries in technology – hiring and retaining the best talent. Especially with the new model of remote working and the uncertainties around how this could look moving forward. HealthTechs in different cities and eco-systems face their own individual challenges. For example in the last 12 months a significant amount of technologists have migrated from Silicon Valley (and companies have relocated, Texas being a popular option). It is no longer unheard of to see candidates wanting to leave BigTech. In contrast, in Europe a lot of candidates are continuing wanting to move to locations such as Berlin or Amsterdam, the HealthTechs want to hire them and have visas to do so but there are still restrictions with relocation. It will be interesting to see what happens with relocation trends throughout 2021.
What's your advice for HealthTechs on attracting and retaining top talent?
I could go into a lot of points here but I will keep brief for now – this is a great time for any HealthTech firm to attract talent! The pandemic has meant that talent already in the industry or technologists from other relevant transferable industries have a renewed passion or purpose for entering the HealthTech industry. Be sure to put forward your value proposition and explain exactly what is you are working on. Not just your tech stack, but your vision and your mission.
In addition, a record number of women left the workforce in 2020 due to the impact of Covid-19. I was one of them. Not all will return but many will. Be sure to have DE&I strategy in place to attract the tech talent coming back.
Finally, what makes Storm3 different from other HealthTech recruiters?
We focus solely on the HealthTech industry – with a portion of that focus on start ups and scale ups using cutting edge technology and systems. We're unique in that there is no one company that stands out for only recruiting technologists (Engineering, Data & Analytics and Product) into HealthTech. There are a lot of generalist tech recruiters that work across different industries and a lot of 'Life Science' recruiters that cover the more traditional Big Pharma space with the occasional sidestep into tech. I saw this as a great opportunity for us to be true specialists in the space and build a talent solution synonymous with the HealthTech industry.
With this specialism, our focus on finding diverse talent, and the fact we have institutional Series A backing from Puffin Point Investments to give us the infrastructure and technology to scale quickly – we truly believe Storm3 can revolutionize the HealthTech recruitment industry.
To get in touch with the team you can submit your enquiries here, or email info@storm3.com.