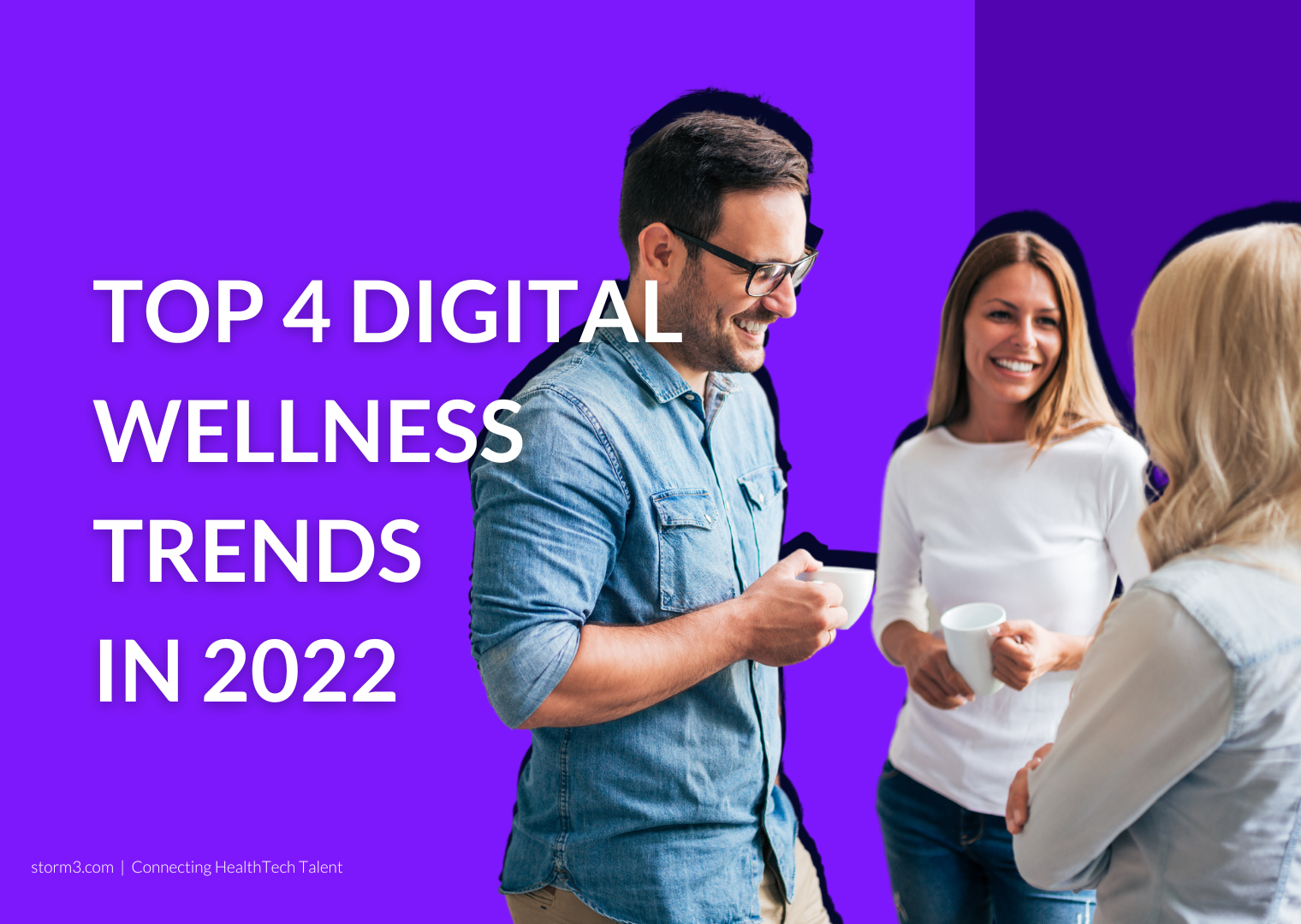 Simply put, digital wellness is the use of technology to ensure one's physical and mental health. In today's world, the majority of our time awake is spent consuming technology in some form. With some consideration, we can utilize this time to benefit our overall health.
Undoubtedly, in the past couple of years, healthcare apps have become both a need and a luxury.  Research predicts that the global digital wellness market is expected to reach over USD 1354.68 billion by 2030. The key driving factor in this forecasted market growth is the increasing penetration of smartphones together with the growing number of various health and fitness-related applications. For scaling digital wellness businesses, hiring the right talent at the right time is a crucial step. If your business needs help with Wellness Tech Recruiting, don't hesitate to reach out to us.
Based on our worldwide experience with HealthTech companies and our industry knowledge, we collected some of the main digital wellness trends we expect to see in 2022.
1. Personalized Health Guidance
Smart watches, -rings, -bracelets and other wearables are becoming commonly used devices. Therefore, more and more patient-generated health data is available that help people closely monitor their health. In the near future, by using these personalized data, medical recommendations could be tailored to a person's biological makeup, age, lifestyle or even insurance coverage.

2. Medical IoT changing the healthcare sphere
One of the fastest growing digital wellness trends is the Internet of Things related innovations. Adoption of cloud services, integrated apps, wearable technology, AI and machine learning give the possibility for a more enhanced version of conventional healthcare. First, these technologies allow people to personally manage their health. Secondly, with real-time data collection healthcare experts can monitor their patients remotely. These benefits ultimately reduce the necessity for in-person appointments.

3. Digital Wellness Apps Go Mainstream
In the past couple of years, but certainly since the pandemic, technology has changed the way psychological help can be delivered. Individuals can choose from countless apps on mindfulness, meditation, digital therapy and mental health self-care. Using scheduling apps and software allows for a broader adaptation of teletherapy. It's forecasted that these solutions will become a commonly accepted supplement for traditional mental health treatments.

4. Changing Work Environments
Whether remotely or in-office, we spend a significant part of our lives working. It's no secret that there's a high correlation between a person's individual well-being and workplace performance. Among others, it affects the number of sick days employees take, one's likelihood of leaving the organization and having a burnout. Providing access to digital wellness tools that help in maintaining employees' mental health should be a priority for every modern business. Some of the new norms we expect to see in modern workplaces are the wide use of project management software, free access to employee wellness apps and screen time awareness tools, as well as blue-light glasses.

We Are Here For You!
The Digital Wellness industry is soaring and Storm3 aims to be at the very heart of it. We connect the top HealthTech talent with the most innovative businesses across the globe. We are specialist recruiters dedicated to working with the top companies in all HealthTech sectors. Our team of expert consultants have built a network of highly specialized senior talents across Data & Analytics, Engineering & DevOps, Product Management and Sales & Marketing. If you're a startup or scale-up looking to grow your team, contact us, and follow us for more industry news.