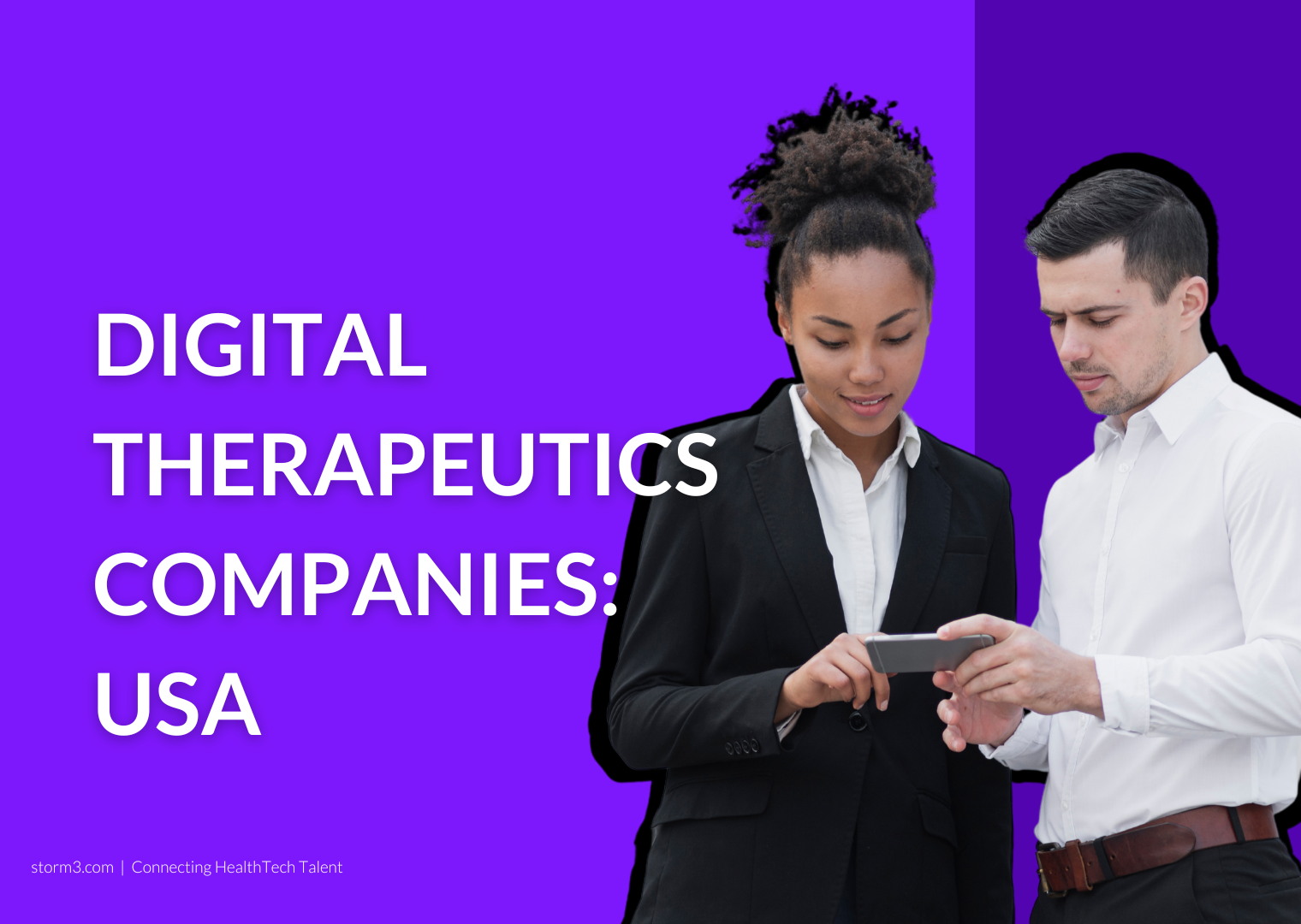 Digital Therapeutics are a bold and innovative category of medicine that deliver medical interventions directly to patients using evidence-based, clinically evaluated software to prevent, treat and manage a wide spectrum of diseases and disorders.
Globally, the Digital Therapeutics market is generating $3.4 billion annually, and it's projected to reach $18.06B by 2028. The key factors driving the industries growth include skyrocketing demand as a fallout from the Covid-19 pandemic, various supportive regulatory initiatives, increasing smartphone use in developed and developing countries and the ever growing presence of chronic disorders.
In 2021, North America dominated the global market. But who are the trail blazers that're leading the North American market from the front? See below for a full breakdown of the four DTx companies that're reinventing the way we approach healthcare.
4 Digital Therapeutics Companies
Omada
San Francisco | Series E
Omada is a virtual care program that combines data-powered human coaching, connected devices, and curriculum tailored to people's specific circumstances to help its users achieve their health goals through sustainable lifestyle change.
Founded in 2011, Omada began in the realm of prediabetes management; but today, the HealthTech's services include management for diabetes, musculoskeletal (MSK) conditions and hypertension. In 2020, the DTx company acquired MSK-focused Physera, giving Omada a foot holding in the physical therapy space. Since this, the company has deployed new computer vision technology to help physical therapists virtually measure a patient's movements.
"There's a belief system at Omada where we think the real power of digital health comes from an integration between people and technology, and clinicians and technology, versus tech alone."
Sean Duffy, CEO

Virta Health
San Francisco | Series E
Virta Health is the first clinically-proven treatment to safely and sustainably reverse type 2 Diabetes without surgery or medications. The Digital Therapeutics company was founded by Sami Inkinen, who discovered to his surprise that he was pre-diabetic and decided to do something about it: Co-Found Virta Health with the mission of reversing type 2 diabetes in 100 million people by 2025.
Currently, 34 million Americans are living with diabetes, and 88 million are prediabetic; this comes in at an annual cost of well over $300 billion to the US economy, and this cost is increasing fast. Through using technology to connect patients with remote care and coaching, as well as nutritional science, Virta Health wants to change the way the medical community thinks about diabetes as a chronic condition by reversing the disease as oppose to poorly managing it.
"The norm in diabetes care has been more medications, more weight gain, and more suffering. Diabetes reversal changes this. We have shown a path for people to live medication and diabetes-free, and this investment is about reaching even more people and taking diabetes reversal mainstream."
Sami Inkinen, Co-Founder and CEO

Biofourmis
Boston | Series D
Biofourmis uses AI and machine learning-based solutions to enable personalized predictive care. The Digital Therapeutics scale up hits on two booming HealthTech markets: Remote Patient Monitoring and Telehealth. 15.1% of the US population (39.3 million people) used RPM systems in 2021, and it's forecasted that this will increase to 26.2% (70.6 million people) by 2025, meaning the demand for digital health companies like Biofourmis is only increasing.
Biofourmis uses the same foundational technology for its two main lines of business. The first involves working with pharma companies to monitor patients taking certain medications, as well as developing Digital Therapeutics. The second line of business involves 'hospital-at-home' programs for urgent conditions, in addition to longer-term solutions for chronic diseases. In April 2022, the DTx scale up announced an extension of its Series D from Intel Capital, which brought its total funding to date to $320 million. Commenting on the funding, Kuldeep Singh Rajput, Founder and CEO said:
"To receive additional funding from the venture capital arm of a global technology giant during an unpredictable time in digital health investment is further validation of Biofourmis' market strength and potential and validates that we are distinguishing ourselves in the market."

Welldoc
Maryland | Series B
Welldoc is a Digital Therapeutics leader revolutionizing chronic care by integrating personalized, real-time and actionable insights into the daily lives of people living with chronic conditions to improve health outcomes.
Welldoc's flagship product, BlueStar®, is an FDA-cleared digital health solution that guides individuals through the complex journey of living with diabetes by empowering them to self-manage their care while simultaneously enhancing connections to their healthcare team. Alongside diabetes management, the DTx startup's comprehensive chronic care platform also provides support across heart failure, hypertension and behavioral health.
In June 2022, Welldoc announced its 31st patent, demonstrating the continued advancement of Welldoc's first-in-class technology for chronic condition management.
"The expansion of Welldoc's IP portfolio to thirty-one patents for our platform reinforces our position as a pioneer in the development of digital health solutions for chronic care."
Kevin McRaith, President and CEO

Hiring Digital Therapeutics Talent
At Storm3, we are Digital Therapeutics recruiters dedicated to partnering with pioneering DTx companies that are building a healthier world for all. If you're a startup or scale up looking to expand your Digital Therapeutics team, get in touch today! To learn more about the roles we work with, see our specialisms page.