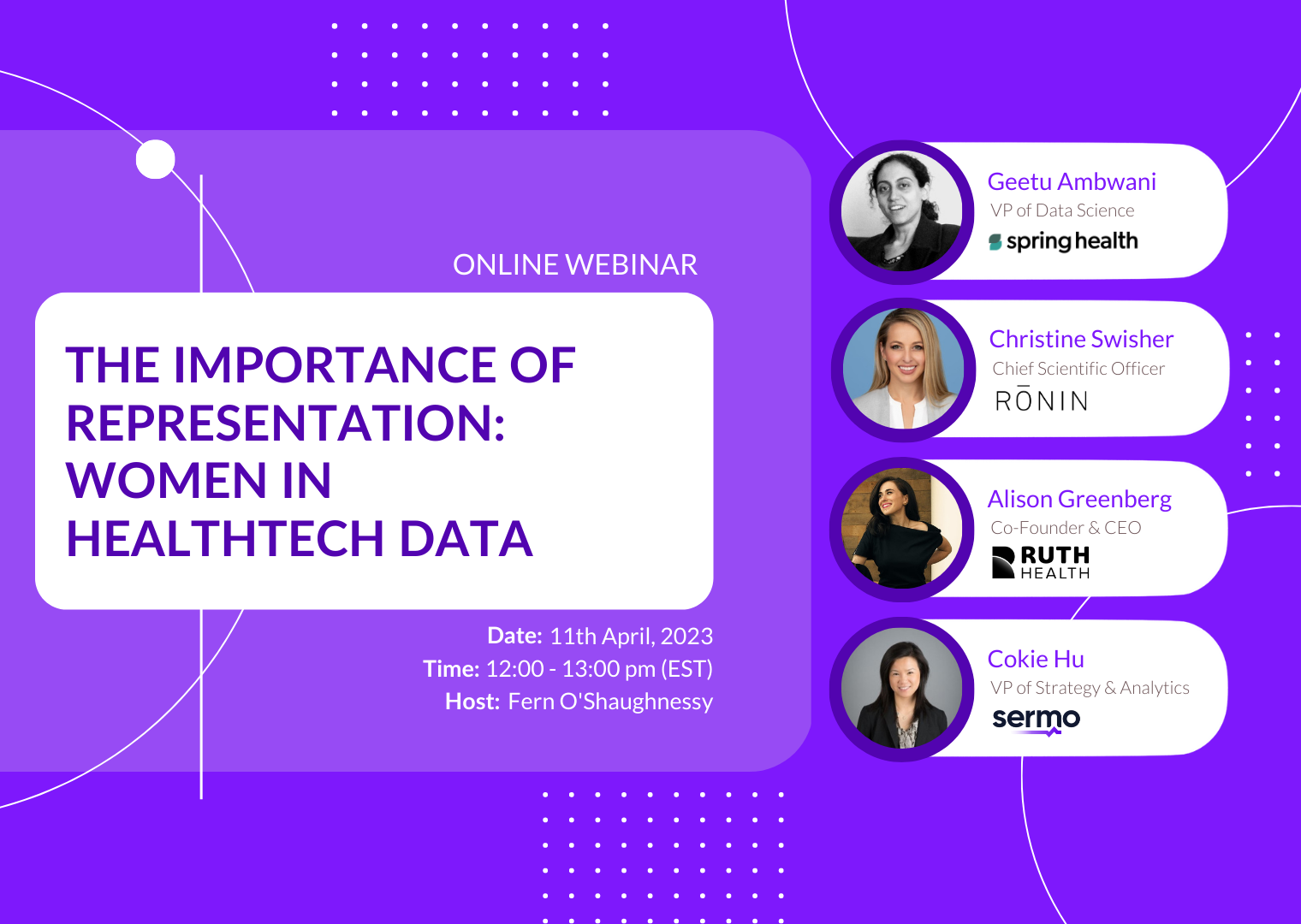 We sat down with four leaders in the Data Science field for a rich discussion on the importance of representation in data; specifically, women in HealthTech data.
Split into three parts, our expert panelists covered:
Understanding and facing the bias in Data Science
The positive and negative effects of data on women's health
Solutions for the problems caused by a lack of representation
Currently, women's health is contingent on there being voices in the room asking the right questions. On that note, a huge thank you goes to our panel: Geetu Ambwani, Christine Swisher, Cokie Hu and Alison Greenberg for sharing their incredible insights and helping catalyse continued discussion and action.
See below for a couple of video snippets from the event!
Alison Greenberg
Co-Founder & CEO at Ruth Health
"Hire women, pay women, include women in your research pools, make sure 'N' equals a lot of women and it goes all the way down to educational reform because what Cokie and Christine were referencing in terms of training programs and how physicians are taught versus how data scientists are taught, what sort of professional oaths and commitments we make.
This problem would not exist if a woman were the CEO of Google, if a woman had founded Facebook, and if women were the sort of majority of hospital and healthcare leaders. Not to call for things to be set on fire and torn down, but we really need to replace the leaders in both healthcare and technology with more women.
That's part of why it's so important to me to run a healthcare technology company, that's why Geetu and her CEO at Spring [Health] April Koh who's an old classmate of mine from college. Women like the four of us here today and like you Fern are the potential for the future and probably the only solution, because I'm a firm believer that these AI's that we already rely on have been trained on too much biased data – we can't start from scratch. But women leaders and a greater population of women as data points is going to be our best hope."
Cokie Hu 
VP of Strategy & Analytics at Sermo
"When we look at market research data, we run thousands of surveys every year to help inform clinical trial design, to help inform product design, to help inform brand marketing and in none of our screener questions do we ever ask about gender. We ask about what specialty you are, where you're from, we don't even ask about age we typically ask you years of experience because these are the things that matter.
When we look at the data, we don't believe that gender should be relevant. Your input and your opinions about what will make a successful drug should not be based on your gender, it should be based on your specialty, it should be based on your years of experience, and these are the things that we look at in the data.
The solution is one to hyper focus and make sure that we do get all representation, or it's the total opposite, which is to remove gender from the equation altogether and say all voices count, it does not matter your gender, all voices count equally in this decision making."
To view the entire webinar for free, fill out the form below!