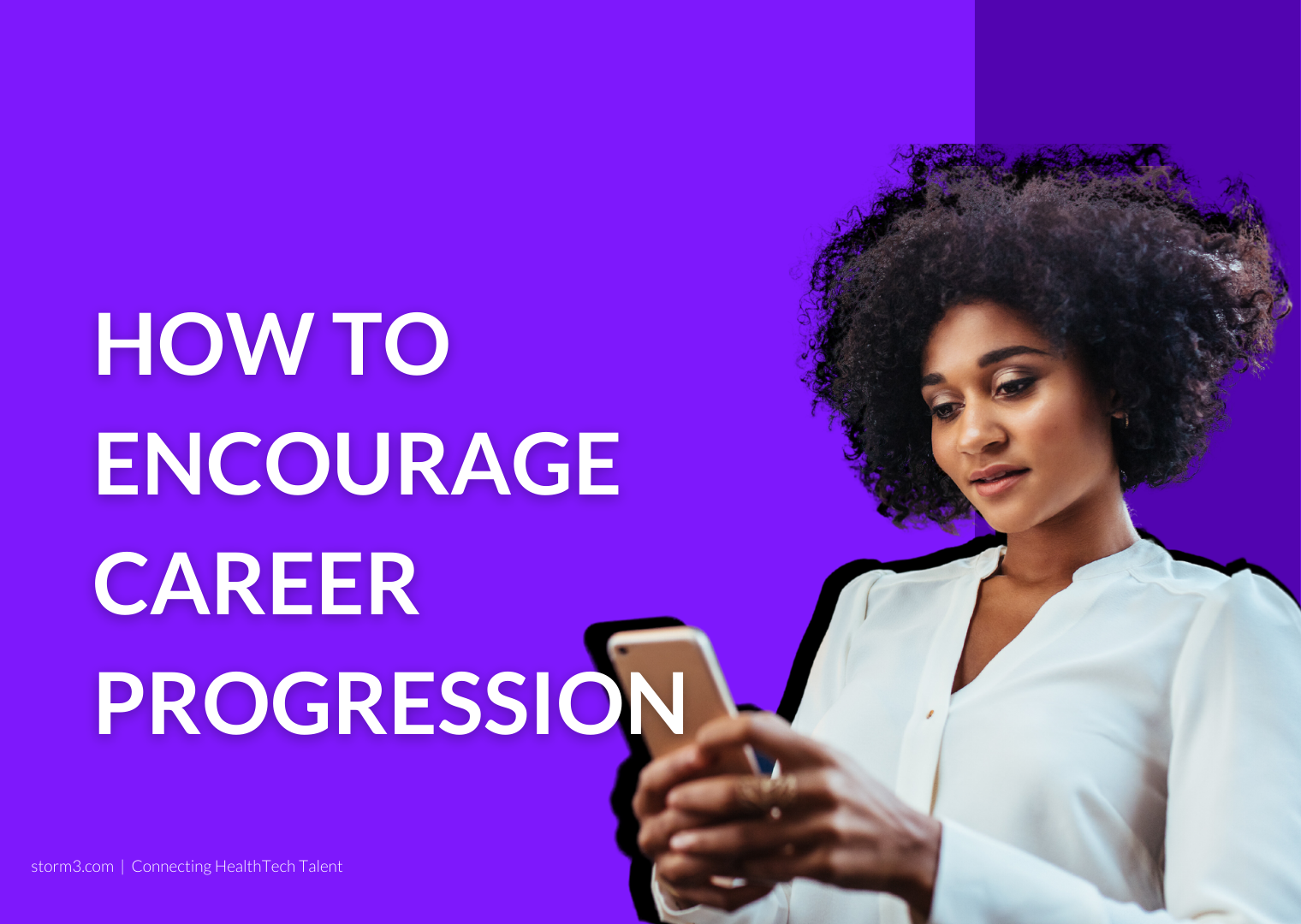 Leading employers in the HealthTech space understand the importance of career progression and placing employees' professional development at the heart of the company. It builds commitment and engagement, uncovers hidden potential, and helps attract new talent through a stellar succession reputation.
With a report by Robert Walters showing that 68% of those surveyed cited a clear path for progression in their role as the most important factor in keeping them engaged, the significance of encouraging career progression in your HealthTech should not be underestimated.
Career progression is a long-term plan. It requires a HealthTech to be willing to invest in its employees' development, and enthusiastic employees who are motivated to go the extra mile. Below are five simple steps that will help towards meeting both of these demands.
How To Encourage Career Progression: 
Forge A Development Culture
A company with a development culture values progress, learning and individual success. They provide the necessary tools for employees to achieve their goals and encourage the sharing of career aspirations with management. In committing to and promoting development, companies are rewarded with increased employee engagement and retention, with employees being satisfied that there are exciting and realistic opportunities for career progression.
Provide Significant Growth Opportunities
Whether it's representing the company at a conference or leading a client meeting, make sure you offer ample opportunities for your employees to grow and take the lead in their role. As well as this, be sure to offer opportunities that educate on the latest advancements in training, technology, and the HealthTech industry.
Listen to what it is your employees want to learn and invest in these areas of education. This could mean paying for an online course, creating a workshop to train employees in any areas they've shown interest in, funding a conference and so on. Remember, career progression doesn't necessarily mean being promoted – it can be learning those advanced skills that take employees to the next level of their education and skillset.
Support Work-Life Balance
The Covid-19 pandemic has caused many professionals to rethink their priorities. Research by Robert Half found that 40% of workers see themselves emphasising their personal life over their professional life moving forward. In light of this, employers will be under even more pressure moving forward to help their employees achieve a suitable work-life balance.
Of course, working hard is essential for career progression, but that doesn't mean committing employees to a series of lengthy workdays. Encourage employees to maximise their efficiency, work smart, and leave time and energy for their non-work interests.
To do this effectively, adopt flexible policies, such as flexible working hours or a work from home scheme. This will help employees find the time to do their job, pay attention to their personal needs, and engage in professional development activities that will advance their career.
Paint The Bigger Picture
Offer your employees regular insights into how their day-to-day work adds value to the organization. Regularly update teams on the companies progress towards strategic objectives and acknowledge individual employees for specific successes that are helping drive the company toward these goals. In doing this, company morale will soar and employees' drive to progress in their roles will hugely increase.

Monitor And Reward Progress
Assessing and monitoring employee progress along their career path increases their motivation to reach their goals. It also makes it easier to introduce targeted resources if you see progress beginning to stall. To inspire action, identify specific milestones in which a goal will be accomplished and provide measurements on whether this 'growth' has been achieved.
If you're a HealthTech looking to scale, or if you have any questions on encouraging career progression in your organization, get in touch! Our team of expert consultants can advise you on how best to encourage progression and grow your team.