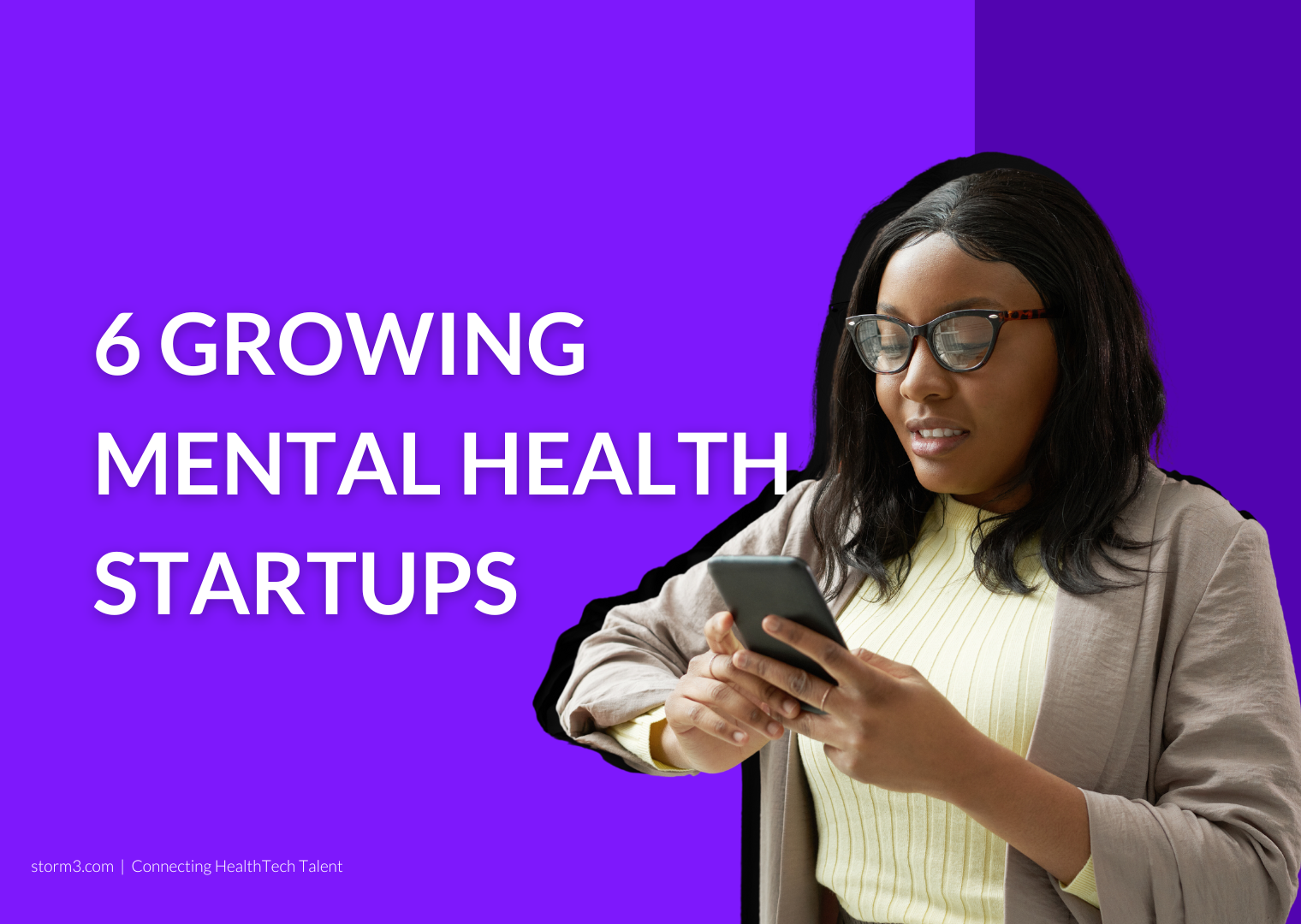 Whilst people have become more aware of mental health and the importance of taking care of it, far too many people globally are struggling to access the care they need. Healthcare systems across Europe are overwhelmed; but fortunately, Mental Health startups are stepping up to bridge the gap, developing new Telehealth services, medications, and personalized diagnostics to increase mental healthcare access. In 2023, the Mental Health startup ecosystem is teeming with creativity and ingenuity. In this article, we'll explore six growing Mental Health startups that're making waves in the European Mental Health space and paving the way towards a more mentally healthy future.
6 Mental Health Startups
Mendi:
Founded in 2018, the Swedish startup Mendi has created the world's first brain training headband device which uses oxygen and blood flow in the prefrontal cortex to measure brain activity. As well as the device, customers get an app where they can further train their brain activity.
Mendi's mission is clear and ambitious: to improve the brain health of 10 million people by 2025. How are they going to achieve this? Firstly, the HealthTech is growing – fast – with team members based across the globe in Sweden, the UK, Germany, Bosnia, Austria and the USA. Mendi is also strongly supported by the startup incubators Sting, Vinnova, EU's Horizon 2020 research and innovation programme, Neurofeedback Scandinavia, Stockholm University and Almi Invest.
"The idea behind Mendi grew from a desire to use neurofeedback to improve our own mental wellbeing. My Co-Founder, Sammy Saldjoghi, ran a leading neurofeedback clinic in Stockholm and this is where we both first met. In the clinic, I saw the incredible benefits of this method and we both felt this potentially life-changing technology should be available to everyone." Rickard Eklöf, Co-Founder.

Meditopia:
Berlin-Istanbul-based Meditopia has become one of the most prolific mental health apps for non-English speaking countries, boasting over 35 million members in more than 120 countries and in 12 different languages. A platform with a strong focus on medication and coaching, Meditopia's mission is clear: to provide mental health practices anytime, anywhere, for everyone across the globe.
Meditopia offers content ranging from medication, sleep, and motivation which is available in different formats, including texts, audios, music, and most recently art. Its content has been exclusively developed by mental health and wellbeing professionals including sleep experts, psychologists, mental health coaches globally, who have all curated the materials needed to address the specific needs of people from different backgrounds and cultures, and unique daily challenges.
"We don't believe there is a one-size-fits-all solution to mental health and with Meditopia, we're helping to provide for the long-term deeply personal, complex needs of people across the globe." Fatih Çelebi, Co-Founder.

Sympatient:
Founded in 2020, Sympatient provides digital psychotherapy, and it has developed an Invirto progamme which uses virtual reality technology to treat panic disorders, agoraphobia, or social phobias. Whilst other providers tend to rely purely on digital solutions, Invirto's treatment is unique as it's always integrated with psychotherapists or doctors.
In Germany, anxiety disorders account for the largest proportion of mental illnesses. Despite this high demand for treatment, the average waiting time for a therapy place in Germany stands at around five months. Fortunately, Sympatient is increasing access to mental healthcare through its exposure therapy which enables its patients to learn about their anxiety disorders and effectively manage their fears.
"In the past two years, we have been able to help several thousand patients with anxiety disorders – that's more than many clinics treat in a comparable period. By establishing a Digital Anxiety Clinic, we now want to expand our specialisation and cover the entire treatment pathway for anxiety disorders – from diagnosis to therapy and aftercare." Christian Angern, Co-Founder and CEO.

Dreem:
Founded in 2014, Paris-based startup Dreem is a holistic sleep solution, designed with human behaviour first and supported by a global community of sleep experts. Dreem believes that sleep disorders are a growing public health epidemic that remains untreated because of different obstacles related to diagnosis and treatment. In short, Dreem's device monitors brainwaves, analyses the user's sleep, and stimulates the brain with sound to extend the amount of deep sleep, allowing for improved human performance throughout the day.
"We dream of a world where sleep is not a constraint nor the source of anguish and anxiety anymore. This journey will be challenging, long, complex. Everyone – doctors, scientists, institutions, countries, companies, insurances, sleepers – must participate to make this global journey successful." Hugo Mercier, former Co-Founder and CEO.

Flow Neuroscience:
The Swedish startup Flow Neuroscience offers a new, at-home, drug-free treatment for depression consisting of a brain stimulation headset combined with an AI-powered app therapy programme. By applying a brain stimulation technique known as transcranial direct current stimulation (tDCS), the headset delivers a gentle electrical signal to the patient's head which should help significantly reduce symptoms of depression or even eliminate them altogether.
Looking to the future, Flow aims to increase its accessibility and reach to cure and manage mental health disorders. Through its digital and remote device, Flow is able to ultimately develop research into the effects of tDCS on depression, without a reliance on in-clinic participation.
"I have always been drawn to the teams and technologies focused on improving human experiences on a global scale. The Flow team has built a truly transformational hardware-enabled platform that I believe will fundamentally change the way we understand and treat disorders like depression." Erin Sivyer Lee, CEO.

Compass Pathways:
Compass Pathways is dedicated to accelerating patient access to evidence-based pharmaceutical innovation within mental health. The HealthTech is currently pioneering the development of a new model of psilocybin therapy – the main ingredient found in magic mushrooms – in which their proprietary formulation of synthetic psilocybin, COMP360, is administered along with psychological support.
COMP360 has been designated a Breakthrough Therapy by the US Food and Drug Administration (FDA), for treatment-resistant depression (TRD), and Compass Pathways has to-date completed a IIb clinical trial of psilocybin therapy for TRD, in 22 sites across North America and Europe.
"We are aiming for a better system of menta healthcare – with patients having access to treatments that work, and innovation that has been tested and approved medically, and made available through health systems to people in need." George Goldsmith, Chairman and Co-Founder.

Building A Healthier World Together
The ripple effect of mental health is vast. To name just two effects: those who have a serious mental health condition are twice as likely to develop depression and cardiometabolic diseases and anxiety disorder currently results in $1T in lost productivity every year globally. With mental health having such a massive impact on economic productivity, healthcare costs, and quality of life, we've no doubts that more Mental Health startups will continue to rise in 2023.
At Storm3, we connect top talent with the most innovative Mental Health startups and scale ups across the globe. Our team of expert consultants have built a rich network of highly specialized senior talent across Data & Analytics, Engineering, DevOps, Finance & Operations, Product Management and Sales & Marketing. If you're looking to grow your team, get in touch today!