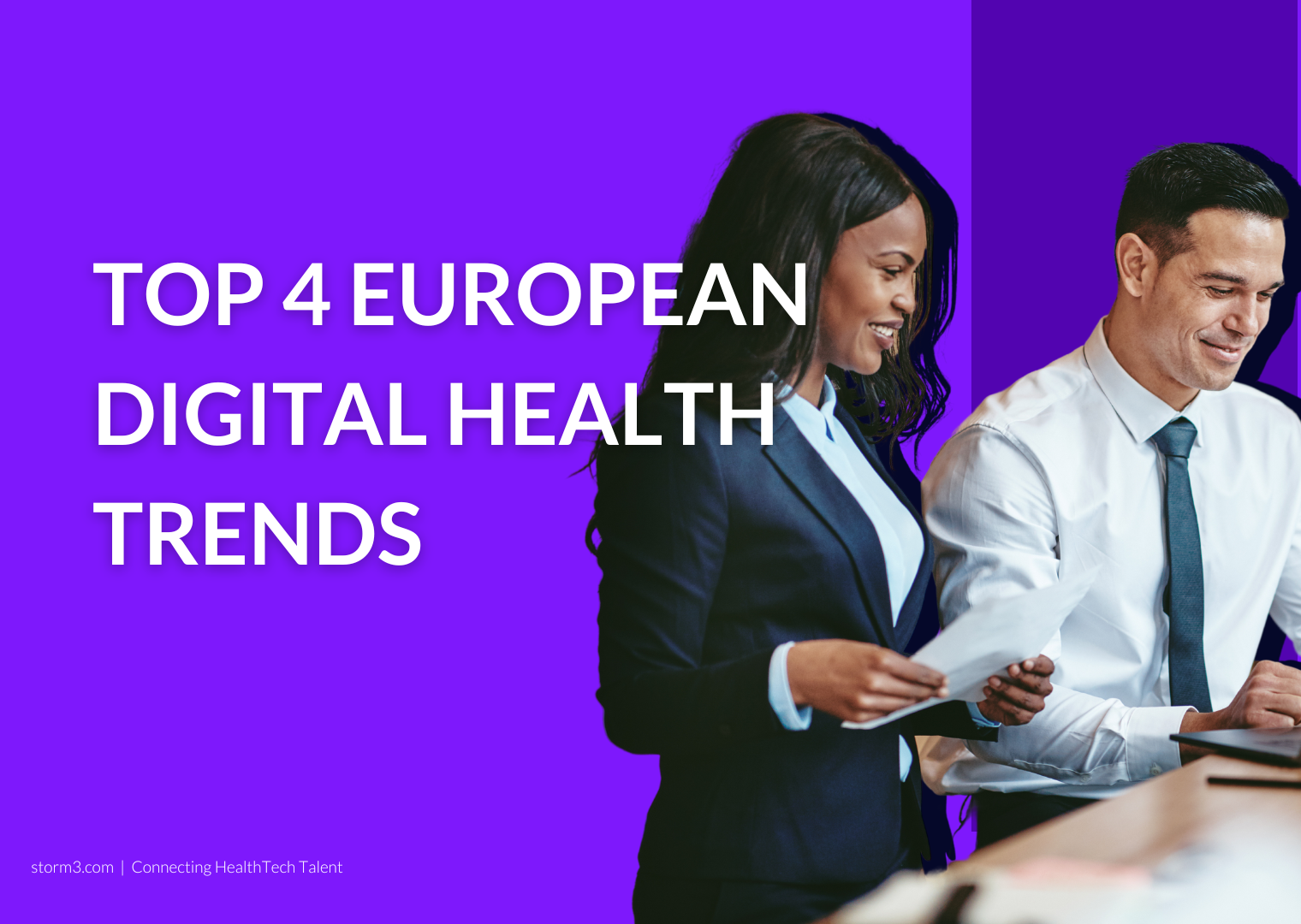 In recent years digital health solutions have truly revolutionized healthcare. Simply put, digital health provides patients with a new method of healthcare system, that is more able to save time, boost accuracy and increase cost efficiency. The global digital health market is expected to reach USD 430.52bn by 2028, exhibiting a CAGR of 16.9% during the forecast period.
So what trends are we currently seeing in the digital health space in the next couple of years?
The War For Tech Talent
In the past couple of years, we have already seen a massive move of tech talent from traditional companies into the innovative tech sphere. With the growing use of digital health solutions, companies need to offer the best conditions to attract the right tech talent. Simultaneously, the HealthTech space is becoming more and more attractive to candidates; not only because it can be a lucrative move, but because it offers the potential of creating something from the ground up, while contributing to the greater good.

Improving Health Equity
Health equity is achieved when there is no unfair, avoidable or remediable differences in health among socially, economically, demographically or geographically different population groups. The use of digital health solution, like telemedicine, wearables, and IoT devices, are contributing massively to the mission of improving health equity worldwide. In other words, digital health enables a more accessible and affordable delivery of healthcare services with the same level and quality as high-end healthcare facilities.

Decentralization Of Health Data
In today's world, patients are demanding higher security and a greater control over their health data. Regardless of its arguable reputation, blockchain has proven to be an effective tool for this; with blockchain being a database of transactions that can assist in keeping and storing electronic health records. Through blockchain, data security and integrity can be improved, and the problem of fragmented medical records solved. Although, the option for fully decentralized health data might not become a reality anytime soon, the trend of the increased use of blockchain technologies is here to stay. Especially as blockchain in the healthcare market is expected to reach $890.5M by 2023.

It's Not Only About Video Games
Augmented Reality (AR) and Virtual Reality (VR) are mostly known from the gaming industry, for creating a realistic imaginary setting that enhances a gamer's experience. These technologies however, are predicted to become one of the main driving forces in the future of medicine. Through AR  (the enhancement of the real-world environment),  users don't lose touch with reality; rather, they get additional information into their eyesight as quickly as possible. With VR (an entirely immersive experience with a VR glass), a completely digital environment is created. Among countless others, these technologies help with surgical training, in providing more innovative drug information and in symptom description. Experts predict that AR and VR in the healthcare market will grow from USD 0.8bn in 2017 to USD 6.5bn by 2025.

So What's Next For Digital Health?
It's not a secret that healthcare as a whole is long overdue for a transformation. With these current trends, no doubt that healthcare technology will continue to improve year by year and enhance the healthcare industry. Current funding and investment trends show that others see value in it as well. European seed stage HealthTech companies brought in €118m, overtaking investments in FinTech. Even though, for its full integration into traditional healthcare services we might have to wait a bit longer, digital health will surely only grow more relevant going forward.
Storm3 At Your Service
The HealthTech industry is soaring and Storm3 aims to be at the very heart of it. We connect the top HealthTech talent with the most innovative businesses across the globe. Our team of digital health executive recruiters have built a network of highly specialized senior talents across Data & Analytics, Engineering & DevOps, Product Management and Sales & Marketing. If you're a startup or scale-up looking to grow your team, contact us here, and follow us for more industry news.