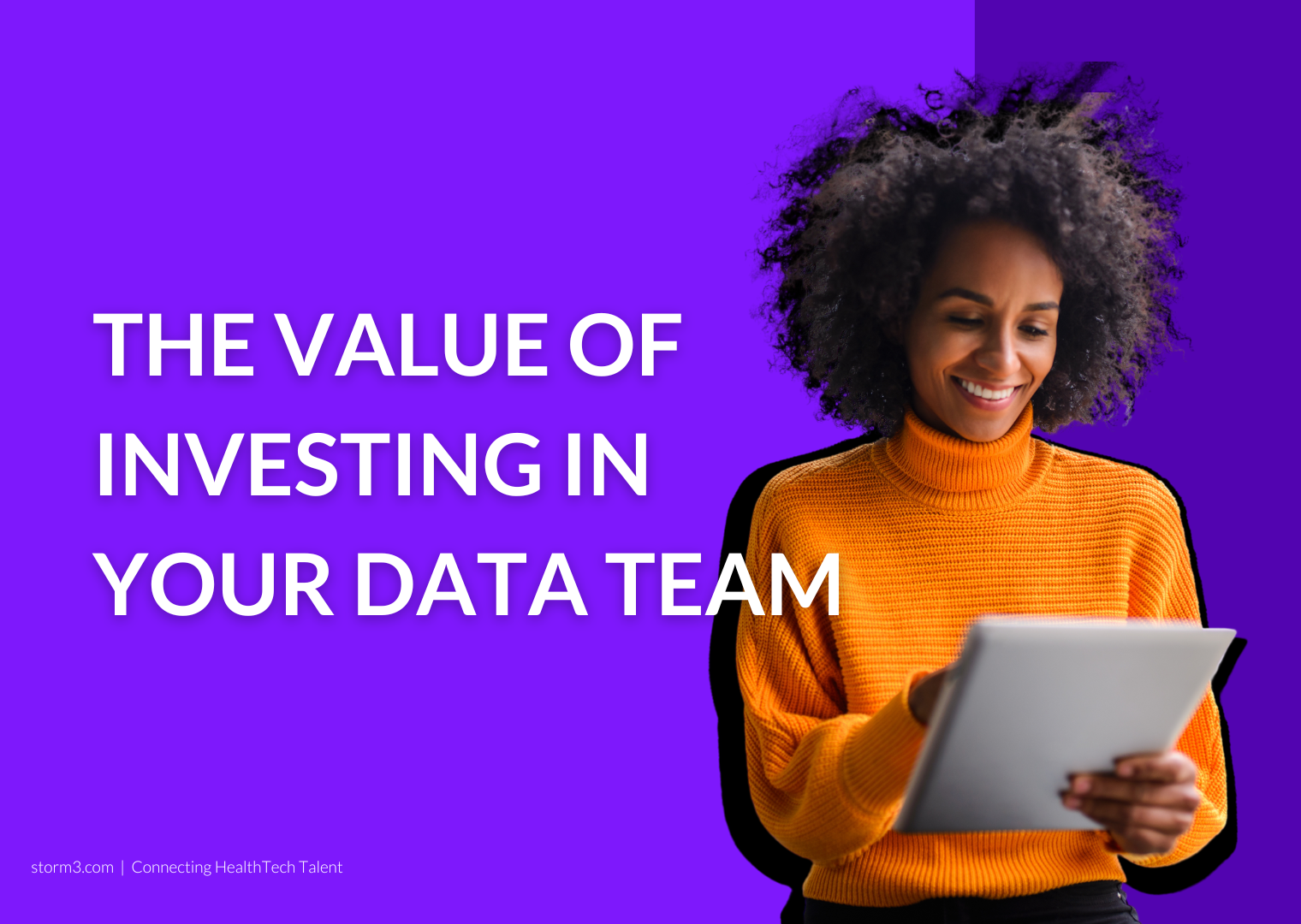 Data Science is frequently hailed as an "up and coming" area within the Tech industry. The reality is, it's been around for many years, but is embedded within other areas of businesses. Marketing, for example, has historically blended "data" with trends and customer research to design market strategy. But now more than ever, data is becoming a fundamental function in its own right.
In fact, the U.S Bureau of Labor Statistics predicted in 2021 that the data science field would grow 28% through 2026, making now the perfect time to invest in a strong data team.
Data Usage In Healthcare
Traditionally, data science and data analytics have been used to gain a better understanding of behaviours and processes, to manage large amounts of information, and to guide decision making. The speed (and accuracy) it provides in processing information has been, in recent years, applied to medical data.
Traditionally, if someone is suspected of having a brain tumour, the process of identifying it is long and arduous: doctors will overlap a brain scan from several months ago onto a more recent scan to analyse small changes in the tumour's progress, taking up to hours at a time. MIT researchers however, describe a Machine Learning algorithm that can register brain scans and other 3D images more than 1000 times quicker than humans through analysing each pixel of the image. This takes minutes on a normal computer, or less than a second on state-of-the-art systems.
It's not just in algorithms that Data Science is proving to be a useful tool. Healthcare data, in particular, is extremely valuable. In 2018, Roche valued US cancer patient data at almost $2bn through the acquisition of Flatiron Health. By 2025, the compound annual growth rate of data for healthcare will reach 36%. For context, that's 6% faster than manufacturing, 10% faster than financial services, and 11% faster than media and entertainment.
Using data collected by HealthTechs (and, indeed, the wider medical community) not only makes healthcare more accurate, automated and cheaper, it makes it more accessible. A significant amount of health data comes from hospitals (such as images and medical records), but a rising amount is being generated through technology. Whether through wearable devices such as FitBits or insulin trackers, digital symptom trackers or phones, there is an ever-increasing source of digital healthcare. In the near future, it's likely that more data will be collected via phones and wearables than through healthcare workers and Electronic Medical Records in hospitals.
Data's Role In COVID-19
From both a business standpoint and a healthcare one, Data & Analytics has been the difference between survival and failure when combating Covid19. From allowing staff to work remotely to predicting the next strain of the virus and speeding up the process of finding and creating a vaccination, data has been fundamental in helping the world emerge from the pandemic. A report by McKinsey suggests that their tech-enabled products used by executives have accelerated seven years, and using more online channels for everything ultimately means that more data will be collected. At the peak of the pandemic in April 2020, telehealth use was up 80x the pre-pandemic baseline, but has since stabilised to 38 times larger. Many patients and consumers are making the change to telehealth a permanent one. More healthcare data is accessible now than ever before, and this must be utilised.
The British Secretary of State for Health and Social care, Sajid Javid, published a report regarding the significance of data in helping the fight against Covid19. The UK government, along with the NHS, are coming up with a strategy to utilise medical data to help research and unlock solutions to age-old health problems. Javid states that the 10-year plans for cancer, dementia and mental health (amongst others), will not be deliverable without embracing the rise in data-driven technologies.
More importantly, he says that 'data saves lives.' Through unlocking the "incredible power that data possesses," we can advance healthcare and make everyone "healthier and safer," Javid adds.
The Value of Data Teams 
Since 2016, publicly funded efforts have made dozens of radiology datasets available to the public which include images from around the globe. In 2021, there were 150 FDA approved AI radiology products – most of which were developed by startups. Opening up data and making it publicly available encourages innovation and inspires startups. HealthTechs that focus on solving one specific problem are more likely to reach a solution as oppose to a larger company that invests funding in several projects which tackle several problems. The "niche" nature of startups is exactly what allows complex health problems to become solvable.
AI digital health companies collect and analyse a huge amount of data to improve their products and fuel healthcare advancements. In order to fully harness the value of the data each telehealth company is collecting, there's a need to hire and build out a strong data function. "Data" teams at the moment frequently fall under the CPO or the CTO – who rarely have a background in data, and therefore aren't able to fully implement and design a strategy for the best use of data. Investing in a strong data team, that can provide key insights and analysis, is fundamental for every HealthTech startup – and will add huge value when it comes to IPOs or acquisition.
This article was written by Fern O'Shaughnessy, Storm3's expert Data & Analytics Managing Associate. If you're looking to make your next data hire, or searching for your next data role, get in touch! You can also learn more about our Data function and other roles we work with here.
LinkedIn: Fern O'Shaughnessy