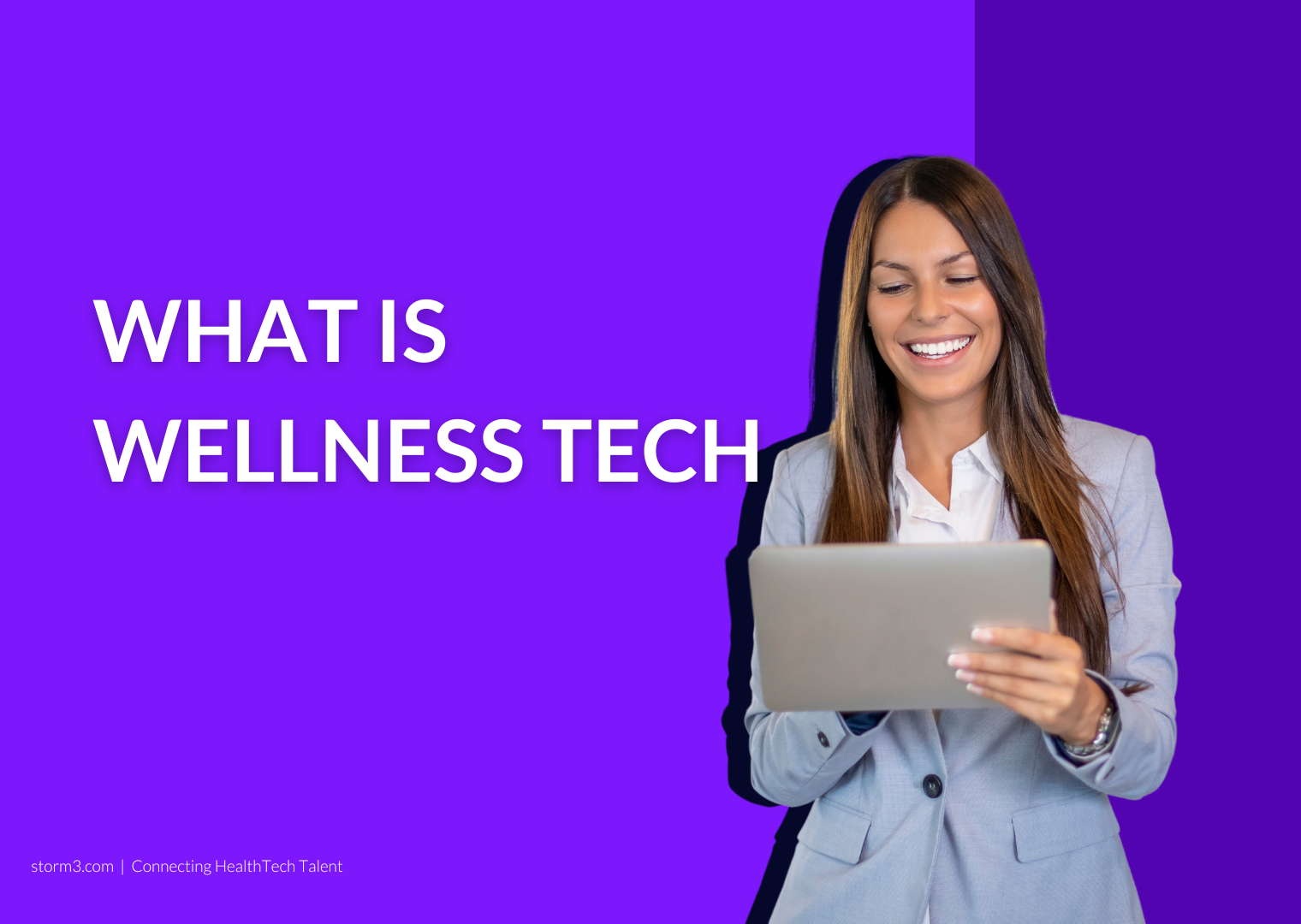 Technology has become an essential part of our daily lives,  easing the basic and advanced tasks we face every day. This even applies to how we manage our health and wellness. Generally, it has become the new norm to be more preventative and have greater  self-awareness when it comes to your wellness. Technology has made this process more convenient at every step of the way. Because of the innovations technology has made in the past few years, a new market of healthcare has surfaced, and it has disrupted the entire healthcare field and brought in a more probable method. Of course, I'm talking about Wellness Tech!

Wellness Tech, Defined
With wellness being defined as the state of living a healthy lifestyle, Wellness Tech  is the remote delivery of services that put an emphasis on promoting the qualities needed for a healthier lifestyle, both physically and mentally.
Wellness Tech has become a global success in solving the needs we have to help build a life of healthier habits. This innovative industry has served as a major catalyst in causing people across  the world to rethink their overall wellbeing and focus more on their physical and mental health.
What Separates Wellness Tech and TeleHealth:
Telehealth is a blanket term that covers a broader scope of remote healthcare technology services, whereas Wellness Tech  specifically refers to the use of technology to develop or change everyday behaviors to encourage healthy mental and physical practices, with the goal of improving a person's quality of life.
All Wellness Tech can be referred to as telehealth, but not all telehealth is considered Wellness Tech. Regardless of their subtle differences, both are part of the larger effort of expanding access to care, making health management easier, and improving the efficiency of healthcare delivery.
Types of Wellness Tech
There are three common types, that include but aren't limited to:
Health Promotion Technologies
Health promotion technologies can be described as any technology that provides support for a healthier lifestyle, including mobile-delivered lifestyle coaching, wearable technology that tracks activity, and much more. Promotion technologies can effectively help people manage their mental health, track any current medical conditions, and also help prevent the rise of future medical conditions.
Behavioral And Health Status Monitoring Systems
These non-invasive and non-intrusive systems are used to collect health-related information which can be transmitted into data to help monitor real-time health conditions. This allows doctors and caregivers to actively monitor patients' well-being remotely.
The US based company Vitls is one example of Wellness Tech's creating platforms that give's clinics the ability to continuously monitor their patients' vitals remotely. Their remote patient monitoring systems reduce treatment cost and reduce the need for length of stay in the hospital.
Medication Management
Medication management is the technology used to keep track of the medication initially prescribed to a patient. They help verify if there are any possible side effects, if the medication is still relevant to treat the patient, and  make sure the patient is getting the greatest benefit from the medication they are currently prescribed.
The Benefits of Wellness Tech
Platforms, wellness apps, and other technologies like remote patient monitoring systems can aid people in learning more about their current health problems, monitor symptoms and practice self-help strategies. Regularly monitoring symptoms and getting quick responses to treatments or other events in your life ultimately helps you find patterns and catch problems earlier.
The main way technology benefits the wellness space is by providing greater accessibility to all its consumers, creating a platform that is a one-stop shop for any wellness treatment that someone might need, and personalized education on condition that patients are experiencing.
The providers of the Wellness Tech now have quicker response times, real-time data, and a more organized way of keeping track of patient's medical records and prescription history. A study that interviewed 1,000 consumers services produced by wellness Tech's stated that 63% of people credit technology for helping improve their wellbeing.
The Future of The Market
The Wellness Tech sector is projected to have massive potential in improving healthcare providers' ability to accurately diagnose, treat and prevent diseases and mental health conditions, and enhance the delivery of treatment to aid people with their wellbeing.
According to the Global Wellness Institute, a nonprofit organization, "as the world emerges from the pandemic, the wellness economy will return to its robust growth. GWI projects 9.9% average annual growth, with the wellness economy reaching nearly $7.0 trillion in 2025."
The Wellness Tech market is projected to boom. The global mobile health and wellness app market is estimated at $40 billion in 2020 and is expected to grow at a rate of 17.7% annually. Consumers are expected to keep spending more on products that use technology to improve their health, fitness, nutrition, appearance, sleep, and mindfulness.
At Storm3, we are specialist recruiters dedicated to working with the top companies in all HealthTech sectors. Launched in 2020 to disrupt the HealthTech talent industry, we connect senior talent with start-ups and scale-ups at the forefront of healthcare technology innovation. If you're looking to grow your team, get in touch.