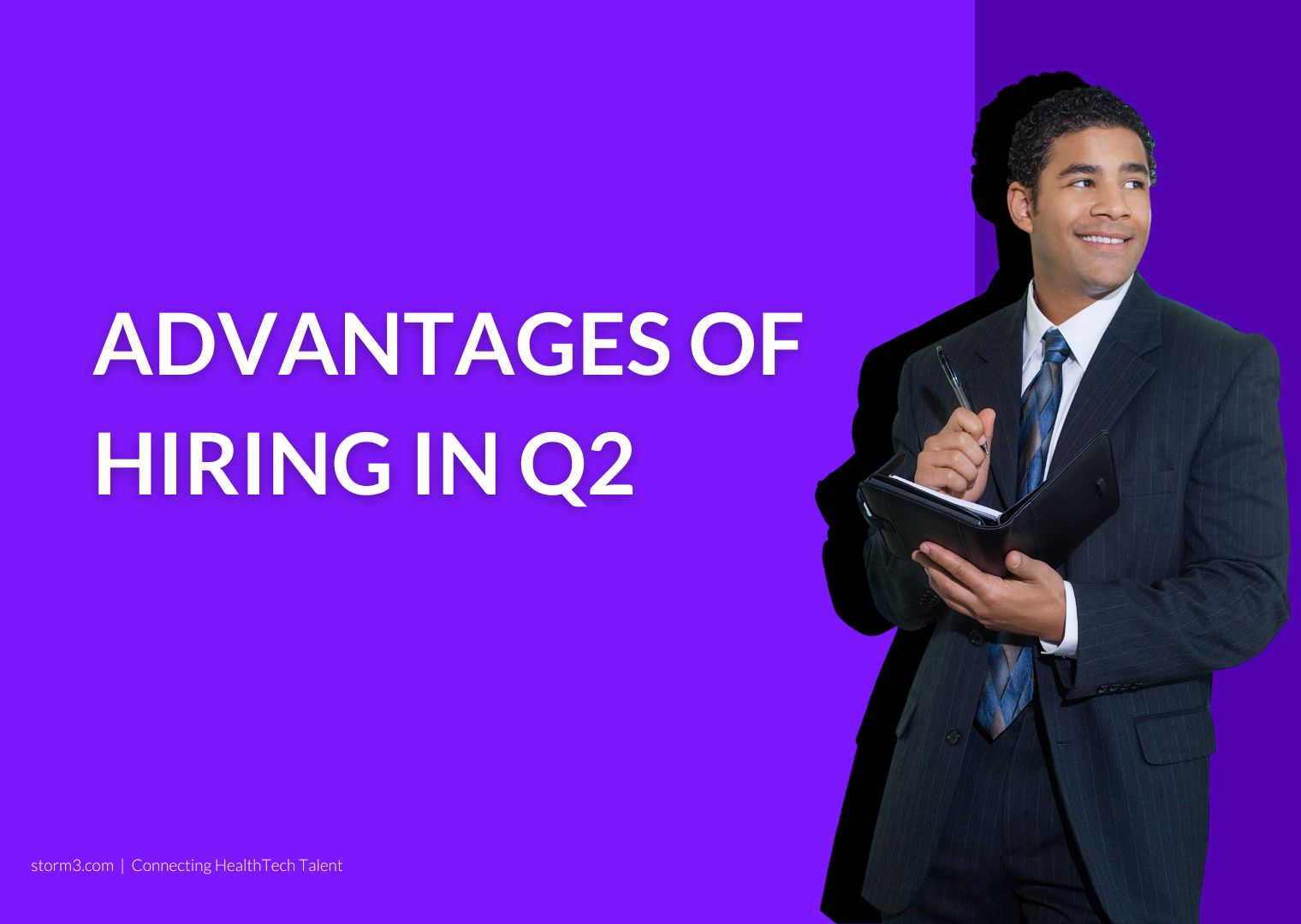 While Q1 is where we see a surge in the hiring process, Q2 is still a great time to begin your candidate search and can actually be more beneficial depending on your business.
We recently ran a survey to identify when most HealthTech plan to do their hiring. The results showed that 45% planned to hire in Q1 and 27% planned for Q4. In addition to the advantage of a bigger candidate pool and less client competition, here are three more benefits of recruiting in Q2 for your HealthTech.
1. This is The Best Time for Relocation
One of the biggest problems a company faces is having an onsite role that a candidate must relocate to. In a time where remote work is taking the helm. Q2 is one of the best quarters to optimize relocation roles. A major consideration for candidates is having to pack up their whole lives, sell their homes, and take their kids out of school. With Q2 being during the initial months of summer, this erases one of the enormous pain-points for candidates when deciding to pull their kids out of school mid-year.
2. End of Year Bonuses Paid Out
By the time Q1 is over, depending on the company and positions many candidates have received their end of year bonuses. If a candidate has been passive on the job market looking for other opportunities, this is the time that they will actively be interested in making a move.
3. Reduced Client Competition
There is a solid case to be made that businesses should not pump the brakes from April to June. In business, unorthodox thinking is frequently rewarded, and an excellent applicant could be landed while everyone else waits.
4. Time allocated For Hiring Process
Whether you are using recruiters or an internal hiring team, the hiring process is not a turn around. It could be detrimental to a startup to wait until you urgently need an experienced candidate to start hiring. There are four main steps in the hiring process from the intake call to having a candidate in seat. If you are using a recruiter, the first step is submitting candidate feedback. Interviews are the second step in the process. For step three, you must allocate time for a candidate to review and consider your offer. Finally, you have the notice period transitioning from their past company to yours.
Gain The Advantage in Q2: Start Your HealthTech Talent Search Today!
Here at Storm3, we are working with a multitude of HealthTech startups and scale ups that're getting ahead of the competition and hiring the right talent to spearhead their operations into 2023.This could be you too! Get in touch to speak with one of our specialist consultants, who work exclusively across Engineering, Data & Analytics, Sales & Marketing and Product Management.