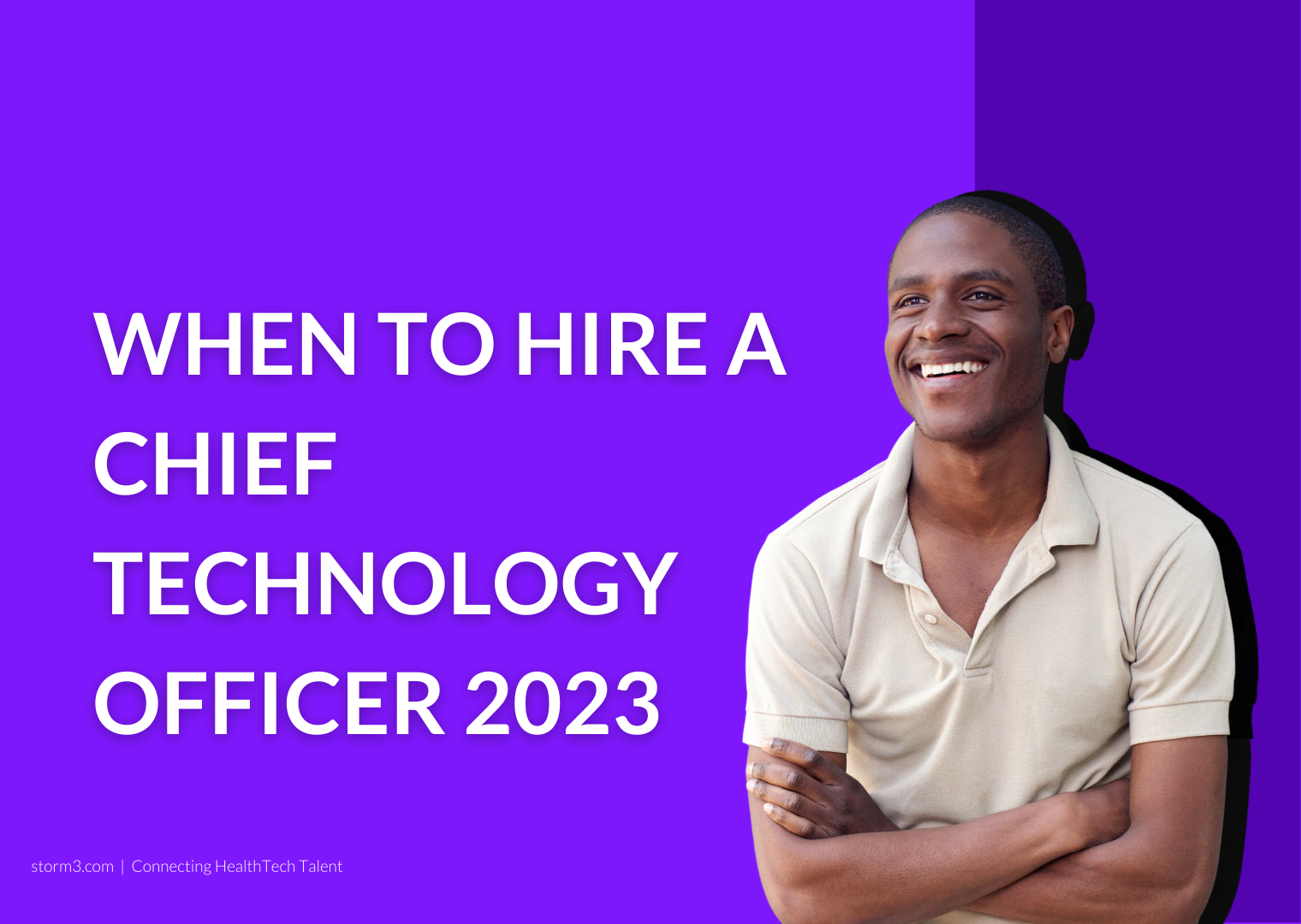 The future growth of your company could potentially depend on the chief technology officer (CTO) you choose, therefore choosing the correct one is essential. Since every start-up is unique, there is no set timeline or method for when to hire a CTO. If you are wondering how important it is to hire a CTO and the value they bring to your company, keep reading.
What is a CTO?
A Chief Technology Officer (CTO) is an executive-level position in a company responsible for overseeing the technology strategy and implementation. To put it another way, a CTO is someone who gathers the greatest software development teams and ensures that your business needs are mirrored in your product by utilizing technology to its fullest potential. Even though a CTO serves as both a technical and operational leader, their duties might change based on the nature, requirements, and organizational structure of a business.
Role of a HealthTech CTO
A CTO, specifically a HealthTech CTO, is responsible for implementing technology solutions that address the unique challenges and opportunities of the healthcare industry. Here are some of the key responsibilities of a HealthTech CTO:
Develop and execute a healthtech strategy: The HealthTech CTO is responsible for developing a technology strategy that aligns with the overall business objectives of the company. This includes identifying new technologies and trends that can help the company improve patient outcomes and reduce costs.
Manage technology operations: The HealthTech CTO is responsible for managing the infrastructure and ensuring that it is secure, reliable, and scalable. This includes managing technology staff, overseeing the development of new technology solutions, and ensuring that the technology is compliant with industry regulations and standards.
Drive innovation: The HealthTech CTO is responsible for driving innovation within the company, which includes researching new tech, experimenting with new solutions, and collaborating with other industry leaders to identify opportunities for improvement.
Collaborate with stakeholders: The HealthTech CTO works closely with other executives, healthcare providers, and other stakeholders to ensure that the technology solutions meet their needs and are aligned with their goals. This includes working with clinical teams to develop solutions that improve patient care and outcomes.
Ensure compliance: The HealthTech CTO is responsible for ensuring that the technology solutions are compliant with industry regulations and standards, including HIPAA and FDA regulations.
When to Hire a CTO
Hiring a Chief Technology Officer (CTO) for your startup can be a game-changing decision that sets your business on a path to success. As a founder, you can't be expected to have expertise in every area, especially when it comes to technology. That's why hiring a CTO you can rely on is critical. Someone with a deep understanding of operations and technology, who can help you manage your tech infrastructure, make informed decisions, and keep up with the latest industry trends.
Signs that it's time to hire a CTO:
Founders don't need to specialize in everything
You're a founder with a passion for your product and a deep understanding of your market. You've poured your heart and soul into your startup, but when it comes to technology, you feel a little lost. It can be a daunting task to keep up with the fast-paced world of software development and communicate effectively with your development team.
That's where a CTO comes in. A great CTO is someone you can rely on, a true partner in your journey to success. They have a wealth of knowledge about operations and technology, and they're eager to dedicate their time, energy, and expertise to your business. With a CTO on your side, you can manage your technology infrastructure, make informed technology-related decisions, and stay ahead of the latest industry trends.
Your software development team needs guidance
You've built an amazing software development team, but as your business grows, you're starting to feel like you're in over your head. Your team is working hard, but you're not quite sure if they're headed in the right direction. This is where a skilled CTO can make all the difference.
A great CTO can provide invaluable guidance and mentorship to your development team, sharing their vast technical experience and knowledge. With their help, your team can stay on track and continue to deliver the high-quality software that your customers love.
As your business expands and becomes more competitive in the market, a CTO can help you scale your technology systems to meet the demands of your growing customer base. They can also help you identify new opportunities to leverage technology and fuel your business growth.
Time for a digital upgrade
If your organization still uses older technologies and an outdated method of managing software development teams, it may be time to upgrade and move on. The process of introducing innovation might be challenging for larger businesses, but that is no excuse to give up. To facilitate the transfer, a CTO may be useful in this situation. Consider how your users deserve the finest user experience. You can accomplish this with the aid of a Chief Technology Officer.
Too much on your plate
Let's imagine your firm has reached a stage where it is solid and earning money, but you still need to push it farther so it can expand and scale-up. A CTO can take some of the responsibility off your hands. A CTO can facilitate the technological transformation of your business so that you don't go over budget or need to significantly change the design of your product to gain additional people.
Salary Expectations
The salary expectations of a Chief Technology Officer can vary significantly based on the size and complexity of the organization, as well as the geographical location. To focus on the most relevant information, we have narrowed our discussion to the top three HealthTech Hubs in Europe.
In Germany, CTOs with different levels of experience and depending on the size of the company can expect a salary range of €90,000 to €200,000. Generally, those working in larger and more established organizations tend to earn the highest base salaries, typically ranging from €105,000 to €200,000, and may be offered additional bonuses and incentives. Conversely, CTOs in smaller companies and startups may receive less, with salaries starting around €90,000 to €170,000. However, startups often offer equity and stock options that can boost the CTO's total compensation.
Moving on to France, the salary range for CTOs is between €100,000 to €120,000. Larger companies with more than 100 employees tend to offer salaries ranging from €105,000 to €120,000, while smaller companies with one to 25 employees usually pay between €100,000 to €110,000. Bonuses and incentives are also provided in France, much like in Germany.
Lastly, in the Netherlands, CTOs can expect a salary range similar to Germany's, between €100,000 to €200,000. Larger companies offer higher salaries, with ranges from €145,000 to €200,000, while smaller companies pay between €100,000 to €170,000. Bonuses and incentives are also provided in the Netherlands.
Storm3 At Your Service
The HealthTech industry is soaring and Storm3 aims to be at the very heart of it. We connect the top HealthTech talent with the most innovative businesses across the globe. We are specialist recruiters dedicated to working with the top companies in all HealthTech sectors. Our team of expert consultants have built a network of highly specialized senior talents across Data & Analytics, Engineering & DevOps, Product Management and Sales & Marketing. If you're a startup or scale-up looking to grow your team, contact us here, and follow us for more industry news.